Allergic Otitis in Bulldogs and French Bulldogs
Allergic Otitis in Bulldogs and French Bulldogs is one of the most common bulldog ear diseases and is considered the most common primary cause.
Bulldog Allergic Ear Otitis  5 X MUST KNOW
Allergic otitis is one of the most common primary causes of bulldog ear disease.
The ears are the extension of the skin thus skin allergies often lead to allergic otitis.
Itching, rubbing redness, and inflamed ears often lead to bacteria and yeast infections.
Treatment includes bully therapeutics, cleaning wipes, waxless rinse, and yeasty bully flush.
Prevention includes Dr. Kraemer's Allergic Ear Otitis Care Bundles 
Members of this bulldog community prefer prevention over RX
Allergic Otitis In Bulldogs And French Bulldogs / CAUSE
PRIMARY CAUSE: Allergies are the most common reason for primary ear disease.
SECONDARY CAUSE: Bacteria and yeast are the most common reasons for secondary ear disease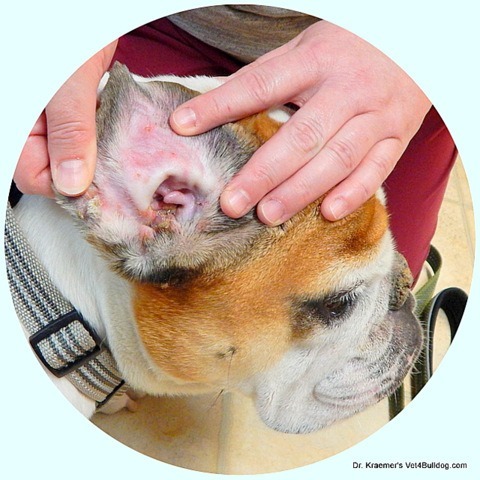 Bulldog Allergies
The ears are the extension of your bulldog skin, thus allergic otitis often presents with other allergies.
COMMON BULLDOG SKIN ALLERGIES
Atopic Environmental Itching Allergy: most common
Food Allergy: not as common as you might think.
Contact Allergy: least common.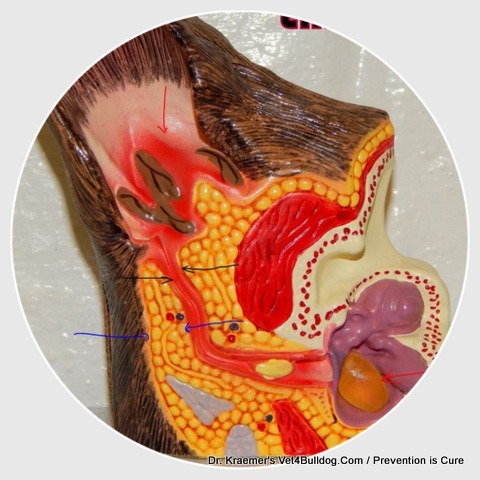 Allergic Ears In Bulldogs / PRESENTATION
Ear itching, scratching, rubbing
Red & Puffy Ears
Ear Discharge
Head-Shaking
Skin Itch Dermatitis
Excessive ear wax
WARNING YEAST AND BACTERIA
A secondary bacteria and yeast infection often follow allergic otitis.
It will intensify the itching and the inflammation.
The infection will change the makeup of the ear discharge to purulent and smelly.
Allergic Otitis In Bulldogs And French Bulldogs / DIAGNOSIS
OTOSCOPIC EXAM: Often needs to be done under anesthesia due to pain and the need for flushing and suction.
CYTOLOGY: Samples from the ear canal under the microscope will likely show wax cells, white blood cells, bacteria, and yeast
TIME OF THE YEAR: Seasonal is consistent with environmental allergies while a year around with food allergy
SKIN DISEASE: The presence of skin allergy dermatitis with an ear disease makes allergic otitis a likely diagnosis.
FOOD TRIALS:  to help r/o food allergy
ALLERGEN BLOOD TESTING: to r/o environment atopic allergy
IMAGING: radiograph, CT, MRI  to help r/o other cause
Allergic Ears In Bulldogs / PREVENTION:
Bulldog Ear Cleaning & Wiping
V4B Bully WaxLess Aloe Ear Rinse
V4B Bully Ear Cleansers Wipes
Bulldog Ears Therapeutic Supplements:
V4B Bully fish oil SKIN-IMMUNE-Joint
Hypoallergenic Diet (If Food Allergy)
For Dr. Kraemer's affordable bully allergic otitis prevention & treatment bundles click HERE

Members of this bulldog community prefer prevention over RX
Bulldog Allergies Itch Control
V4B Bully ItchLess Medicated Shampoo
V4B Bully ItchLess Medicated Conditioner
V4B Bully ItchLess Medicated Spray
For Dr. Kraemer's affordable bully allergies prevent & treat bundles click HERE

Members of this bulldog community prefer prevetnion over RX
BULLDOG EAR CLEANING STEP-BY-STEP
APPLICATION: Fill your bully ear canal to the top with a proper rinse making sure to coat the entire canal.
CLEANING: Take a cotton ball and stick it in as far as it will go using your fingers. There's no need to be scared, you can't go past the curve of the canal and damage the eardrum with a finger or a cotton ball, on the other hand, Q-tips should only be used for the top part and ear-flap folds (pinna).
TWISTING: Twist the cotton ball around and bring it up for inspection.
INSPECTING: Don't forget to survey the texture and color of the inner pinna (inner part leading to the canal).
Allergic Ear Otitis In Bulldogs And French Bulldogs / TREATMENT
BULLDOG EARS RINSE & FLUSH: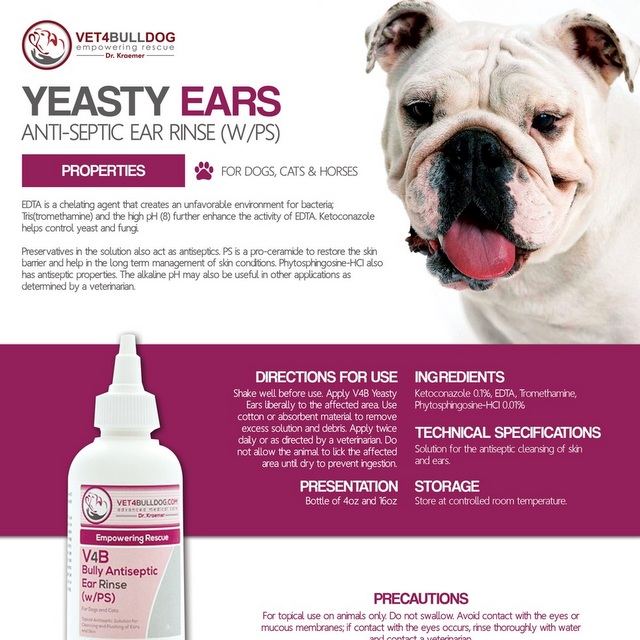 BULLDOG EAR TOPICAL ANTI-INFLAMMATORY:
TOPICAL ANTIBACTERIAL & ANTIFUNGAL:
drops: daily
ointment: daily
pack: deposit placed in the ear and left for days or weeks
Antiseptic medicated packs are ideal for diffecult to treat dogs
E-CONE
Buster collar to protect from self-trauma
SYSTEMIC ITCH CONTROL RX:
Oral or injectable
WARNING: Systemic antimicrobials are only recomended for an infection of the medial and inner ear.
Allergic Ear Disease In Bulldogs And French Bulldogs SUMMARY
Due to their brachycephalic anatomy (squashed face), bulldogs' ear canals are abnormally narrowed thus predisposing them to chronic ear disease from a very young age.
Compounding their anatomical predisposition is the breed's propensity to allergies.
BULLDOG EAR DISEASE PREVENT & CARE
PAIN & $$$: Prevention is critical in helping to avoid lifelong suffering, pain, and medical expenses.
RINSE & WIPE: Prevention care must include proper ear cleaning, rinsing, flushing, and wiping.
EARLY & OFTEN: Prevention care must be performed often and for the life of your bulldog
BULLY TOPICAL & SUPPLEMENTS: Prevention care must be done with the right mix of bully topicals & supplements
Improper prevention will lead to:
Recurrence and painful chronic disease
Secondary infection: yeast & bacteria
Hyperplasia of the ear canal: stenosis, and narrowing
Irreversible changes: fibrosis, calcification, ossification
END-STAGE EAR DISEASE
Bulldog End Stage Ear Disease will require radical ear canal resection surgery (TECA w BO).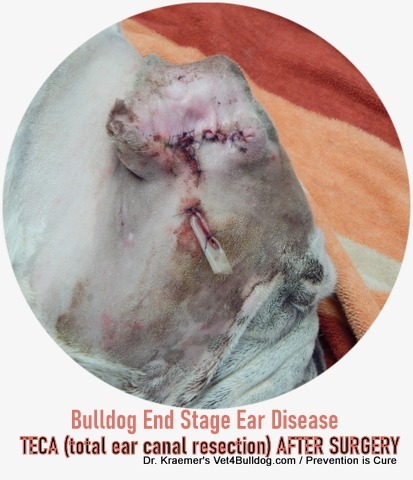 Allergic Ear Disease In Bulldogs WARNINGS:
BULLDOG OTITIS MEDIA WARNING:
Uncontrolled external ear canal disease often leads to middle and inner ear disease
Middle and Inner ear disease is often associated with vestibular disease (ataxia, head tilt, sickness motion, etc.)
BULLDOG HEARING LOSS WARNING:
Chronic ear disease can result in hearing loss and deafness.
ALLERGIC OTITIS DIAGNOSIS WARNING:
Ear mites, ear polyps, and tumors are less common causes of ear disease in bulldogs.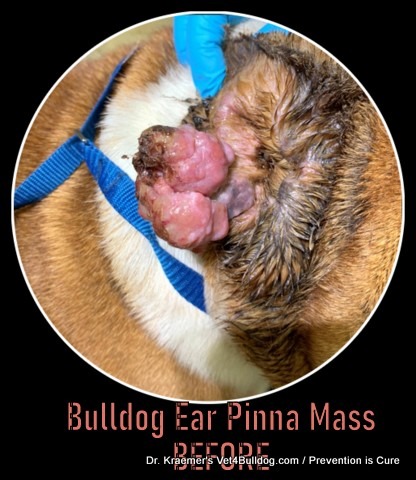 Nevertheless, they should be ruled out during the diagnosis process.
"An Ounce Of PREVENTIVES Is Worth A Pound Of CURE"

*This guide was compiled courtesy of Dr. Kraemer, a "must-read" manual for any current or future bully owner