Poisons and Toxins in Bulldogs and French Bulldogs
Poisons and Toxins in Bulldogs and French Bulldogs
Poisons and Toxins in Bulldogs and French Bulldogs
Poisons and Toxins in Bulldogs and French Bulldogs:
Poisons and Toxins in Bulldogs and French Bulldogs can be food items like chocolate, grapes/raisins and chewing gums, household items, plants like cannabis and palm, pesticides, your prescription medication and many more. I will maintain a list of some of the common ones I see in my practice, so keep checking the page from time to time and join my newsletter for news alerts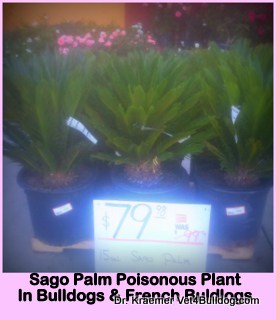 Poisons and Toxins in Bulldogs and French Bulldogs SAGO PALM:
There are a lot of poisonous plants out there, but few cause fatalities in bulldogs and French bulldogs like this oneUnfortunately, I personally experienced two tragic cases in my practice one a young French bulldog puppy of Sago Palm poisoning. All parts of the Sago Palms are poisonous, but their seeds are exceptionally deadly, the poison is "cycasin" and even ingestion of few seeds can be catastrophic.
 Poisons and Toxins in Bulldogs and French Bulldogs WARNING: I have seen the Sago Palm's in my neighborhood yards (southern Ca) and local nurseries (see the photo I snapped at a nearby home depot store). Be aware, Bonsai Sago Palm's are also popular as a house decorative items and gifts.
Sago Palm poisoning clinical manifestation can begin quickly thus if you suspect that your pet ingested any parts of this plant please seek emergency care immediately.
Bulldog Sago Palm Poisoning CLINICAL SIGNS: evidence of you bulldog poisoned by this plant might begin as gastrointestinal like vomit and diarrhea but then can quickly progress to weakness, bloody vomit, and diarrhea, icterus (yellow gums and mucous membrane due to liver failure), seizures, inappetence, shock, and death.
Bulldog Sago Palm Poisoning TREATMENT: 
1. If you can get to an emergency hospital right away try to induce vomiting with oral hydrogen peroxide or Ipecac
2. Treatment will include inducing vomiting, stomach pumping, and stomach protective coating to hopefully remove the poison before it gets into you bulldog system.
3. Supportive therapy is all we can do to improve survival (there is no antidote) and will include:
If you are a pet owner I recommend removing those plants from your home and year.