Veterinary Specialist Bulldog Orthopedics Radiology and Cardiology
Veterinary Specialist Bulldog Orthopedics Radiology and Cardiology In an effort to provide bulldog owners and other pet owners with a wide range of medical and surgical expertise at affordable prices, Dr. Kraemer has been collaborating with selected board certified specialists in a variety of medical fields such as radiology, cardiology and orthopedics.
These in-house specialty services are available on most weekdays and include written reports, take-home instructions, and therapeutic recommendations.
Veterinary Specialist Bulldog Orthopedics Radiology and Cardiology WHAT IS IT?
A board certified veterinary specialist is a veterinarian that has successfully completed the highest level of training in their particular field (i.e. surgery, radiology, cardiology, oncology, etc).
This involves the completion of 4 years of undergraduate studies, plus 4 years of veterinary school studies, then 1 year of a general rotating internship in the doctor's chosen field, and finally, a 3-year specialty residency after which the doctor must pass a rigorous certification test.
Orthopedics and selected Soft Tissue Surgeries: Paul E. Cechner, DVM , a Board Certified Diplomate of the American College of Veterinary Surgery (ACVS)
Dr. Cechner is a university of Illinois graduate who completed his surgical residency at Purdue University Veterinary School where he later served as an Assistant Professor of Surgery. I have known Dr. Cechner for 20 years and from day one I have admired his work ethic, his down-to-earth personality, his professionalism, and his availability and willingness to meet with my clients when necessary. More than anything my clients and patients are privileged to have access to his vast knowledge and unmatched surgical skills at an affordable cost.
Dr. Cechner has been collaborating with me for over a decade in finding the best surgical options for the most common orthopedic and soft tissue problems we see in bulldogs and bulldog puppies.
Dr. Cechner has been a great friend and supporter of Southern California Bulldog Rescue (SCBR).
Over the last 10 years, he has operated on countless rescue dogs at discounted fees and offered a free consultations on a regular basis. Paul and his wife are honored guests at rescue events and, along with myself, have donated surgical services to be raffled at rescue fundraising events with all profits going to bulldog rescue.
Here is a short list of some of the common specialty surgeries: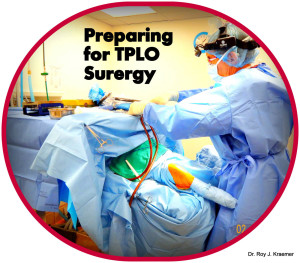 BULLDOG ORTHOPEDICS: 
BULLDOG SOFT TISSUE SURGERY:
TECA

(Total Ear Canal Ablation with Bulla Osteotomy)
Oral Fistula Repair
Maxillectomy
Ectopic Ureter Repair
Other
The Orthopedic Foundation for Animals (OFA) is an organization whose mission is to reduce the incidence of genetic diseases in companion animals. They maintain a large database of dogs and cats to help meet their objectives. OFA forms can be downloaded here
Radiology, Ultrasenography, and Echocardiogram:

Dr. Ann Reed, DVM 

a board certified Diplomate of the American College of Veterinary Radiology (ACVR)
Dr. Reed is a 1991 graduate of Kansas State University. Afterward, she continued her veterinary radiology residency at the University of Missouri – Columbia. Dr. Reed and I have been collaborating for over a decade and she has vast experience interpreting bulldog x-rays. Together we have reviewed thousands of Bulldogs radiographs, as well as radiographs of cats and other canine breeds. Dr. Reed provides us with an in-house radiology and ultrasound consulting service.
Ann, (Dr. Reed) like all our other selected collaborating specialists, donates free consultation and provides discounted  professional services to our bulldog rescue (Southern California Bulldog Rescue)
Dr. Reed's services include :
Abdominal Cavity Ultrasound
Echocardiogram and Sonogram 
Pregnancy Confirmation: For early pregnancy detection.
Ultasound-guided diagnostic needle aspirates for cytology
Ultasound-guided diagnostic biopsies for histopathology
 Cardiology, Electrocardiogram and Echocardiogram: Dr. Fred Brewer, DVM a board-certified Diplomate of the American College of Veterinary Internal Medicine and Cardiology  (ACVIM/Cardiology)
Dr. Fred Brewer is a board-certified cardiologist and the last collaborative specialist joining our team of board-certified veterinarians with affordable services. He is a native of Southern California, growing up in Long Beach, and a UCLA graduate with a Bachelor of Science degree in Psychobiology. Fred is an avid surfer and enjoys playing water polo, traveling, and photography.
Dr. Brewer graduated from Cornell University veterinary school, followed by a 1-year general rotating internship at the California Animal Hospital Veterinary Specialty Group in West Los Angeles with the renowned Dr. Stephen J. Ettinger. He then completed his 3-year board cardiology residency at Cornell University (NY), where he was trained to perform minimally invasive interventional procedures such as pacemakers, balloon valvuloplasties, and PDA occlusions.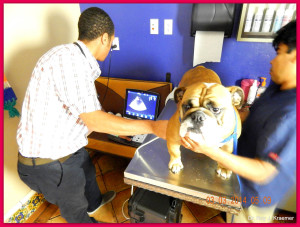 Dr. Brewer works closely with bulldog breeders to help ensure the breeding of healthy bulldog puppies. Any dogs predisposed to certain cardiac diseases should be screened prior to breeding. A thorough cardiac examination and echocardiogram (ECG) can be performed.
Dr. Brewer has experience in the management of complex arrhythmias and the treatment of refractory heart failure a keen interest in electrophysiology and has published in veterinary medical journals.  Hi also supports Southern California Bulldog Rescue (SCBR)  providing low-cost consult and discounted services.
Services:
Cardiovascular physical examination
Comprehensive Echocardiogram
Electrocardiogram (and interpretation)
A thoracic radiograph (interpretation)
Holter/Event monitoring
Thoracocentesis
Abdominocentesis
Pericardiocentesis
Ultasound-guided diagnostic aspirates
Guidance for the management of congestive heart failure and arrhythmias