Stem Cell Therapy for Skin Allergy in Dogs and Cats
Stem Cell Therapy for Skin Allergy in Dogs and Cats
Stem Cell Therapy for Skin Allergy in Dogs and Cats is now being offered by Dr. Kraemer inhouse for a wide range of therapeutic applications.
Stem cell therapy has been extensively researched mostly for its pain relief, anti-arthritis, anti-inflammatory and immune modulation properties.
Stem Cell Therapy for Skin Allergy in Dogs and Cats ATOPIC DERMATITIS
Atopic allergic itch dermatitis is one of the most common skin allergies in dogs and cats. Allergic itch skin dermatitis in pets is usually manifested by the dog or cat itching, biting, and causing self-trauma which then leads to hair loss (alopecia) and often secondary bacterial skin infection (pyoderma), or/and secondary yeast infection (Malassezia).
Pets stem Cell Therapy for skin allergies is showing great therapeutic promise.
Atopic allergic skin dermatitis conjures up thoughts of stressed animals, unhappy owners, and frustrated veterinarians. Atopic itch allergic dermatitis in pets is possibly the number one reason for a veterinary office visit for a dog or cat owner.
Atopic itch skin dermatitis in pets can be chronic and often requires treatment over an extended period of time, thus a major financial burden to the pet owner.
Stem Cell Therapy for Skin Allergy in Dogs and Cats SVF:
Stem cells are powerful healing cells that both you and your pet naturally store in a dormant form. Your dog or cat's stem cells are extracted from their fat (adipose tissue) among a mixture of cells termed the Stromal Vascular Fraction (SVF). The SVF is rich in complementary cells and bioactive peptides that contribute to cell proliferation and tissue regeneration.
STEM CELL FOR PETS TREATMENT:
Dr. Kraemer's in-house stem cell therapy isolates stem cells from your dog or cat's fatty tissue, then activates them (placing the cells into a hyperactive mode) and within hours, reintroduces them to injured and needed body parts.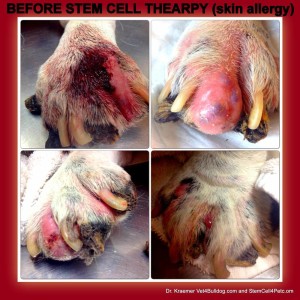 In contrast to allergen elimination for your pet's food allergies, avoiding implicated outdoor allergens (grass, weed, trees, etc.) in atopic allergies and even indoor allergies (mold, dust mites, human dander, etc.) is usually difficult to accomplish.
PETS ATOPIC ALLERGIC DERMATITIS RX
Traditionally, most dogs and cats who suffer from allergic itching atopic skin dermatitis are prescribed medication to help modify their symptoms (i.e. anti itching and biting RX). Additional medication can be prescribed to help decrease secondary infections (bacteria and yeast).
Most of the traditional prescribed drugs lack effectiveness and have the potential for accumulative, adverse effects. In addition, over time they become costly and time-consuming, thus reducing the owner's compliance.
ALTERNATIVE THERAPY FOR PETS
Dr. Kraemer has been offering stem cell therapy for dogs and cats for nearly a decade and is a leading provider of a number of non-pharmaceutical/alternative therapeutic modalities. These new-age, non-pharmaceutical alternatives such as
To help manage conditions such as chronic pain and arthritis, as well as assist in treating a wide range of animal diseases and medical conditions.
Dr. Kraemer also offers low-cost Cryobanking programs
Stem Cell Therapy for skin allergy in Dogs and Cats Rule of Thumb:
Stem Cell Therapy for atopic allergic itch dermatitis in pets is a low risk since you are reintroducing your pet's own natural repair cells.
Dr. Kraemer's in-house stem cell therapy service has the advantage over other stem cell providers because the extracting, processing and treating are all done on location the same day, thus eliminating unnecessary and unwanted cell death due to transportation and time gap between extraction and treatment.
Dr. Kraemer's Stem Cell Therapy for skin allergy in Dogs and Cats TIPS
Tip #1 ALLERGIES: Any pet, dog, or cat when presented with itching, red irritated skin, patchy hair, bumps, color change, and thickness of the affected skin, should suspect allergic atopic itch dermatitis to be the cause.
 Tip #2 ALLERGY DISTRIBUTION: Allergic atopic itch dermatitis in most pets, dogs, and cats is localized to the ears, paws, legs, armpits, and abdomen.
Tip #3 ALLERGENS: Common allergens affecting dogs and cats suspected of itch atopic allergic dermatitis include grass, weeds, and trees as well as indoor allergens like mold, dust mites, and human dandruff.
Tip #4 FOOD ALLERGY: For your pets with itching and allergy dermatitis who are under a year old, I recommend an elimination dietary trial to rule out food allergies
Tip #5 PRP: Platelet Rich Plasma (PRP) allows for an adjunctive autologous value to be added to the stem cell fraction. Platelet Rich Plasma is derived from an autologous whole blood sample from the patient and once processed yields many healing growth factors.
PRP can help with the survival of the cells upon introduction to the patient, reduce inflammation as well as provide cytoprotective properties when transit is necessary.
Tip #6 FLEA PREVENTIVE: You should use a flea preventative on your pet, especially in geographic locations where fleas are common.
Tip #7 ANTI HISTAMINS: OTC antihistamines can be used for dog skin allergies like atopic itch dermatitis but their therapeutic effect is questionable.
Tip #8 V4B THERAPEUTICS: Treating allergic atopic itch dermatitis should involve bathing your pet with medicated shampoos and conditioners like
Dr. Kraeme'r V

4

B  Itchy Skin Medicated Shampoo
Dr. Kraeme'r V

4

B waterless antiseptic lotions.
Dr. Kraemer's V

4

B Antiseptic Medicated Shampoo
V

4

B Yeasty Skin Waterless Gel
"An Ounce Of PREVENTION Is Worth A Pound Of CURE"


*This guide was compiled courtesy of Dr. Kraemer, a "must-read" manual for any current or future bully owner