Description
V4B Skin Fold Antiseptic Wipes for Bulldogs and French Bulldogs XL
V4B Bully Skinfolds Antiseptic XL Wipes provide a broad-spectrum antiseptic and antifungal (yeast) activity.
The members of this bulldog community prefer prevention over RX
Dr. Kraemer's NEW & IMPROVED Bully Skinfold Antiseptic XL Wipes are bulldog prevention & care must-haves.
Bulldog Skinfold Antiseptic XL Wipes can help PREVENT & TREAT:
Painful tail pockets
Nasal & Facial skinfold Dermatitis
Paw & Digit skinfolds Dermatitis
Interdigital Cyst & Pododermatitis
Vaginal folds and hood dermatitis
Chin & Neck Acne

Recommended by owners approved by bulldogs
Bulldog Skinfold Antiseptic XL Wipes Are:
EASY: Covers your entire hand and protects your fingers
EXTRA LARGE: Get more for less
PULL-OUT: Convenient dispensing bottle makes it easy to grab
ECONOMIC: Bigger wipes, More wipes, Reduced cost
MANUFACTURING STANDARDS:
V4B products are manufactured to the highest quality specifications in FDA-approved facilities under strict CGMP ("Current Good Manufacturing Practices") standards.
Prevention is Cure: The key to a healthy bulldog puppy is prevention which is this website's central theme.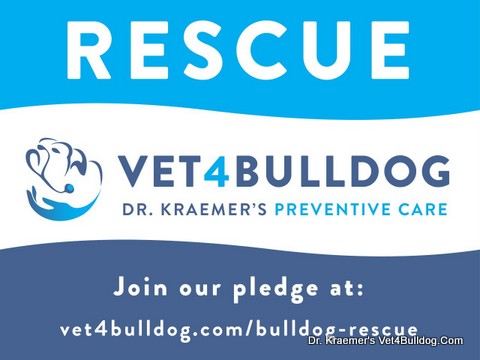 % of all Dr. Kraemer's V4B product proceeds go to not-for-profit bulldog rescue organizations to help support, shelter, and treat their rescued dogs.
WARNING:
Do not allow your bulldog or French bulldog to lick the treated area until dry. Wipes should be used for one application only, do not reuse them.
CAUTION:
For external only. Avoid contact with the eyes or mucous membranes. In case of contact with eyes, rinse thoroughly and consult your veterinarian. If skin irritation occurs or increases, discontinue use and consult with your veterinarian.
Keep out of the reach of children.
STORING TIP:
Store at room temperature. Do not freeze.
60 XL Pull Out Wipes