Vet4Bulldog, Dr. Kraemer, Bulldogs and Rescue
Education, Practice and Stem Cell Therapy:
Dr. Roy Kraemer is the founder of Vet4Bulldog.com and a Bulldog Veterinary Hospital focused on bulldog preventive medicine and surgery.
Dr. Kraemer is a Tufts Veterinary School 1991 Graduate (Boston, MA). He is a member of the AVMA (American Veterinary Medical Association) and the SCVMA (Southern California Veterinary Medical Association) and has been practicing veterinary medicine and surgery in Orange County, California for over 20 years.
Dr. Kraemer has a special interest in bulldogs, French bulldogs, and other Brachycephalic breeds, like Old English bulldogs, Pugs, and Boston Terriers. The Brachycephalic breed are known for their breed-related unique medical and surgical needs,  among them are
Other medical conditions related to the breed.
Dr. Kraemer is also a leader in alterntive regenerative medicine and stem cell therapy. Dr. Kraemer offers alternative nonpharmaceutical therapies for pain relief, wound repair and inflammatory conditions, in the form of some of the most cutting edge healing modalities including a state of the art
Dr. Kraemer has a large following of other dog breeds and cat owners, and provids wellness and preventative care, a wide range of surgical and dental services, orthopedics, radiology, cardiology, ultrasonography, etc. He and his team have been working closely with the Southern California Bulldog Rescue (SCBR), providing shelter, medical and surgical services for over a decade.
Family, Hobbies, and Relationship with the Bulldog Community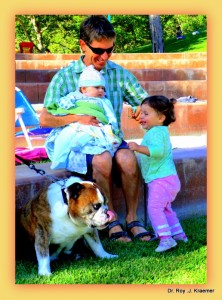 Dr. K, his wife Noya, and their two children, Camille and Arielle, take care of Lily, an exuberant abandoned puppy, and Neama, a stray cat, who are both now members of their extended family of rescued pets. In order to help support Bulldog Rescue and promote public awareness, the Kraemer family takes part in local fund-raising events and rescue gatherings. Camille and Arielle, aged 3 and 2, are both certified 'Bully Whisperers', hugging and kissing the Bulldogs, while the dogs happily reciprocate with a friendly dribble and slobber….Read More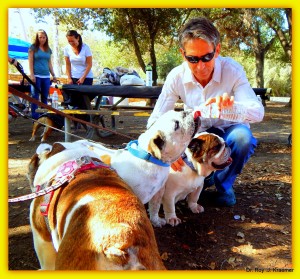 Dr. Kraemer and his association to Bulldog Rescue
Dr. Kraemer has strong ties with the Southern California Bulldog Rescue Group, an enthusiastic and dedicated bulldog rescue organization. He and his staff are proud to take part in the SCBR's daily adoption and rescue efforts. Dr. Kraemer can be seen at many local bulldog events and donates not only his time and medical expertise but also his medical equipment (the therapeutic laser). Dr. Kraemer's hospital's spacious parking lot and large doggy park area also plays host to their bi-monthly  weekend "Bully Adoption Day"….Read More
Dr. Kraemer  has been featured in the following TV news segments, newspapers, and magazines: