Description
V4B Hypoallergenic Conditioner for Bulldogs and French Bulldogs
V4B Hypoallergenic Conditioner for Bulldogs and French Bulldogs is an Essential Fatty Acid after shampoo cream-rinse deodorizing that nourishes your bulldog skin and aids in the control of flaking and scaling.
Bulldog Hypoallergenic Cream-Rinse Conditioner FORMULATION
SOAP FREE: a gentle, soap-free formulation with emollients for moisturizing and proteins for conditioning.
MOISTURIZING: Natural Moisturizing Factors that promote the hydration of your bulldog skin and coat it with a proper pH.
EMOLLIENT: It is an after-bath crème rinse conditioner that combines omega-6 fatty acids, humectants, emollients,
EMULSIFIER: It is an emulsifier that helps improve your bulldog's skin condition and hydration.
STATIC: It also combines nano-encapsulated vitamins to help reduce tangles and snarls and reduces static electricity.
LETHER: It cleans gently, lathers well, and rinses out easily, it is a non-drying, deep cleansing formula that will leave your bulldog coat soft and bright.
Bulldog Hypoallergenic Cream-Rinse Conditioner BEST FOR:
Skin-fold moist dermatitis 
Bulldog Hypoallergenic Cream-Rinse Conditioner WORKS BEST WITH:
V4B Bully Fish Oil EFA for Skin-Joints-Immune
V4B Bully Probiotic Plus
 V4B Bully Immune Support Plus
MANUFACTURING STANDARDS:
V4B products are manufactured to the highest quality specifications in FDA-approved facilities under strict cGMP ("Current Good Manufacturing Practices") standards.
% of all Dr. Kraemer's V4B product proceeds go to not-for-profit bulldog rescue organizations like the Southern California Bulldog Rescue Organization (SCBR) to help support, shelter, and medically treat their rescued dogs.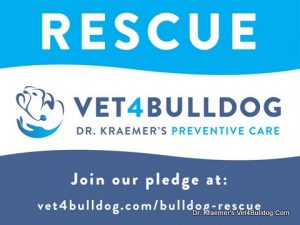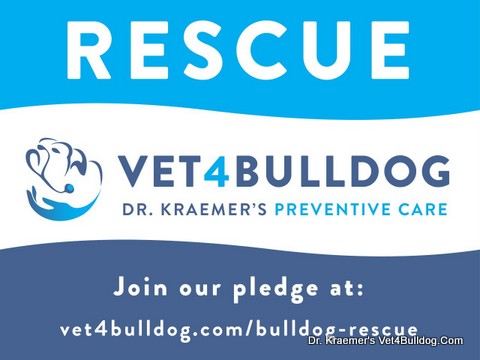 CAUTIONS:
For external use on dogs and cats only. Avoid contact with the eyes. In case of contact with eyes, rinse thoroughly and consult your veterinarian. If skin irritation occurs or increases, discontinue use and consult with your veterinarian.
WARNING:
Keep out of the reach of children.
STORAGE TIPS:
Store at room temperature. Do not freeze.
For use on dogs and cats.