Description
V4B Fish Oil EFA Chew for Bulldogs and French Bulldogs Chews
V4B bully fish oil chew is a highly concentrated source of Omega-3 and essential fatty acids.
The members of this bulldog community prefer prevention over RX
Bulldog Fish Oil EFA Soft Chew Skin-Joints-Immune can help PREVENT & TREAT:  
Skin & coat health
Healthy joint function
Decrease Inflammation
Improve brain Function
Help cardiovascular function
Boost immune system

Recommended by owners approved by bulldogs.
MANUFACTURING STANDARDS:
V4B products are manufactured to the highest quality specifications in FDA-approved facilities under strict CGMP ("Current Good Manufacturing Practices") standards.
NASC QUALITY SEAL MEMBER:
The National Association Supplement Council (NASC) Quality Seal identifies products from companies that are committed to quality, vigilance, and continuous improvement to promote the well-being of companion animals.
Prevention is Cure: The key to a healthy bulldog puppy is prevention which is this website's central theme.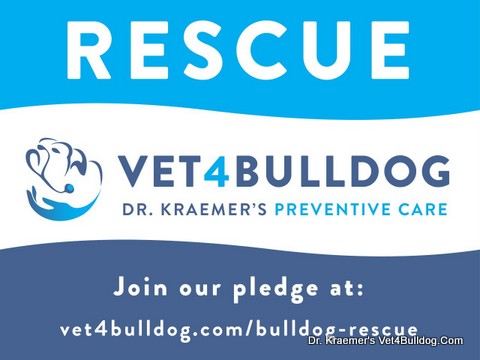 % of all Dr. Kraemer's V4B product proceeds go to not-for-profit bulldog rescue organizations to help support, shelter, and treat their rescued dogs.
WARNING: For animal use only. Keep out of the reach of children and animals.
In case of accidental overdose, contact a health professional immediately.
If the animal's condition worsens or does not improve, stop product administration and consult your veterinarian. An examination from
a veterinarian is recommended prior to using this product.
CAUTION:
In case of accidental overdose, contact For veterinary your veterinarian immediately.
STORAGE:
Store tightly closed at room temperature to ensure freshness.
For use in dogs