Dr. Kraemer Bulldog Specialist
Dr. Kraemer Bulldog Specialist and French Bulldog Specialist
Dr. Kraemer Bulldog Specialist and the founder of vet4bulldog.com
Dr. Kraemer French Bulldog Specialist FAMILY & PETS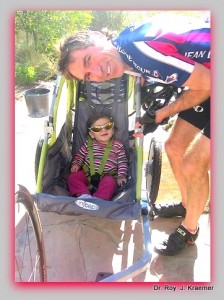 Dr. Kraemer cycling with his daughter
Dr. Kraemer, his wife, and their two children take care of Lily, an exuberant abandoned puppy, and Neama, a stray cat, who are both now members of their extended family of rescued
Dr. Kraemer's Hobbies and Activities
Dr. Kraemer served with the special forces and still enjoys both the outdoors and a good physical challenge. In his spare time, you can find him cycling with the local clubs or running a 10k race. He has traveled around the world enjoying a wide range of activities including mountain climbing and diving expeditions, and he loves sharing his adventures with the rescue volunteers and his bulldogs and other pets owners clients.
Dr. Kraemer English Bulldog Specialist BULLDOG RESCUE
In order to help support Bulldog Rescue and promote public awareness, Dr. Kraemer, and their family take part in local fund-raising events and rescue gatherings. Dr. Kraemer's daughters are both certified 'Bully Whisperers', hugging and kissing the dogs, while the bulldog puppies happily reciprocate with friendly dribble and slobber. Dr. Kraemer also takes part in educational activities at the local schools, promoting pet rescue, quality, and compassionate veterinary care as well as the importance of the pet-human bond. Dr. Kraemer provides shelter and medical care to SCBR rescued dogs and other bulldog and French bulldog rescues.
Dr. Kraemer Bulldog Specialist BULLY PRACTICE
Dr. Kraemer has a long and friendly relationship with the bulldog community and has served bulldog owners in the surrounding cities and counties. Dr. Kraemer provided medical and surgical services at his state-of-the-art Southern California practice as well as private consultation to California residents and out-of-state bulldog owners including bulldog and french bulldog owners seeking his advice from other countries. For those clients traveling long distances as well as those who are fostering or adopting rescue pets, Dr. Kraemer provides a courtesy free consultation, emails, and phone callbacks, as well as discounts on services and products.
Dr. Kraemer Bulldog Specialist PUBLICATIONS
Dr. Kraemer and his Daughter
has published multiple articles on a wide range of medical and surgical topics covering preventive care and wellness for 

English Bulldog Puppies

French Bulldog Puppies,

and

American Bulldog Puppies.
Dr. Kraemer STEM CELL THERAPY:
Dr. Kraemer also contributed papers and published his work on the benefits of

stem cell therapy

and other nonpharmaceutical new age cutting edge healing therapeutic modalities  like

laser therapy

and

pulse electromagnetic therapy