Description
V4B Yeasty Bully Antiseptic Waterless Gel for Bulldogs and French Bulldogs
Dr. Kraemer's V4B Yeasty Bully Antiseptic Medicated Shampoo's antibacterial and antifungal (yeast) combination offers a broad-spectrum antiseptic activity.
The members of this bulldog community prefer prevention over RX
It's ideal for difficult-to-bath bulldogs, or/and on the road emergencies as well as as a topical therapy on days between medicated baths treatments.
Yeasty Bully Antiseptic No-Rinse After Shampoo Gel is IDEAL FOR:
Atopic itch dermatitis
Food allergies dermatitis
Yeasty Bulldog Dermatitis
Bulldogs skin infection
Multidrug-resistant pyoderma
Hot Spots

Recommended by owners approved by bulldogs 
MANUFACTURING STANDARDS:
V4B products are manufactured to the highest quality specifications in FDA-approved facilities under strict CGMP ("Current Good Manufacturing Practices") standards.
Prevention is Cure: The key to a healthy bulldog puppy is prevention which is this website's central theme.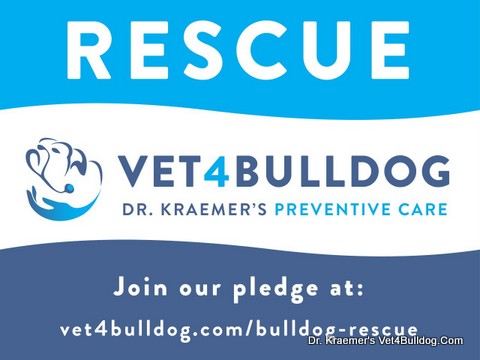 % of all Dr. Kraemer's V4B product proceeds go to not-for-profit bulldog rescue organizations to help support, shelter, and treat their rescued dogs.
STORAGE TIPS:
Store at room temperature. Do not freeze.
CAUTIONS:
For external use on dogs and cats only. Avoid contact with the eyes. In case of contact with eyes, rinse thoroughly and consult your Dr. If skin irritation occurs or increases, discontinue use and consult with your veterinarian.
WARNING:
For animal use only. Keep out of the reach of children and animals. In case of accidental overdose, contact a health professional immediately.