Ear Hematoma in Bulldogs and French Bulldogs
Ear hematoma in bulldogs and French bulldog's medical term is "Aural Hematoma".
Ear hematoma in bulldogs and French bulldogs is an ear flap full of blood that pools between the external and the internal cartilaginous layers of your bully ear pinna (flap).
Bulldog Ear Aural Hematoma 5 X MUST KNOW
The ear flap hematoma appears as a soft enlarged swollen area on the inside of the flap
That ear is blood-filled due to trauma to the flap due to an ear infection, bite, or other.
Usually, surgery is required to remove the blood and sutures to prevent rebleeding
Treatment includes pain relief, ear disease, and allergy care
Prevention includes Dr. Kraemer's Ear Hematoma Care Bundles 
Members of this bulldog community prefer prevention over RX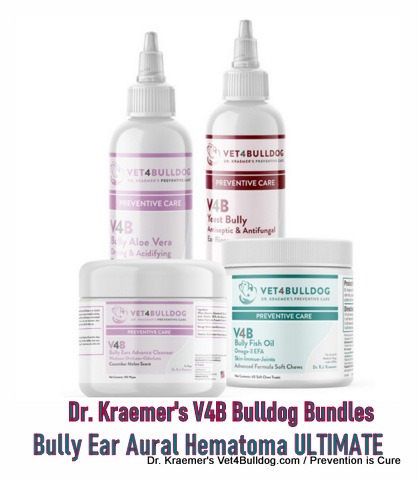 Ear hematoma in bulldogs and French bulldogs / CAUSE:
INJURY: an injury to the ear flap vessels leads to the bleeding
TRUAMA: hitting the flap on a hard object.
BITE: a dog nipping on the ear flap
PAWING & RUBBING: due to ear infection or allergies
OTITIS: allergic otitis, yeasty otitis, infectious otitis
EAR HEMATOMA PAIN WARNING: 
Aural hematomas can be painful to the touch and may aggravate an underlying ear disease.
CULIFLOWER EAR: Left untreated, the blood clots, leaving the ear deformed, a so-called "cauliflower ear."
Bulldog Ear Hematoma PRESENTATION
BLOWN UP PINNA (flap)
RED SWLLON SOFT INFMALED PINNA (flap)
HEAD SHAKING
EAR INFECTION (some times)
PAIN
Ear Aural Hematoma in Bulldogs / DIAGNOSIS
Dr. Exam
Otoscopic Exam
Cytology of the blood if an abscess is suspected
Ear Hematoma in Bulldogs and French Bulldogs / PREVENTION
Weekly ear cleaning and wiping to prevent ear infections
BULLDOG EAR CLEAN & WIPE
Bully Cleansing Ear Wipes
Bully WaxLess Drying Acidifying Aloe Ear Rinse
Yeasty Bully Ear Rinse
BULLDOG ALLERGIES & ITCHING
Control the common allergies and associated itch
Bully ItchLess Shampoo
Bully ItchLess Conditioner
Bully ItchLess Spray
Bully Hypoallergenic Shampoo & Conditioner
Bully Fish Oil SKIN-IMMUNE-JOINT
BUSTER COLLAR:
If the dog shakes or/and rubs the ear and ear base
Bulldog Ear Aural Hematoma TREATMENT
Treat the underlying cause as well as the hematoma
EAR INFECTION Left alone a large hematoma will predispose the ear to infection and make it difficult to manage an ongoing one.
CONTROL OTITIS:
You must control ongoing ear disease
Topical RX
Dr. Kraemer's Bully Therapeutics Topical & Supplements
PAIN MANAGEMENT:
Large hematomas can be painful, so you should consider pain control
RX: analgesics and NSAID
Dr. Kraemer's Non-RX Bully Comfort & Acheless Chews
DIRECT EAR HEMATOMA TREATMENT
ASPIRATION & PRESSURE BANDAGE:
Remove the blood with a needle and apply a pressure bandage for a few days.
This might work for small hematoma.
STEROID INTR-HEMATOMA INJECTION:
After aspiration inject steroid to reduce inflammation and itch. Might be effective for small ones, a pressure bandage can be added for a few ays
LASER THERAPY:
Class 4 Laser sessions can help small hematoma by reducing swell and inflammation.
BULLDOG EAR HEMATOMA SURGERY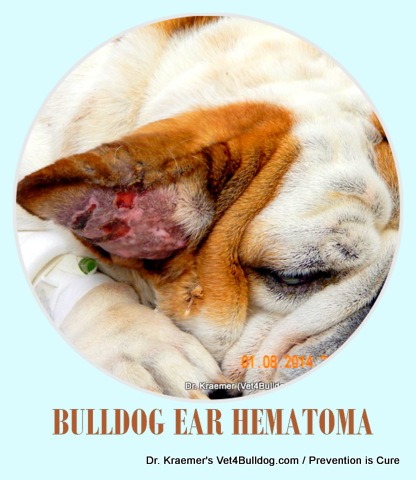 Surgery is the gold standard, the procedure is very simple and involves removing the blood and then closing the dead space between the two cartilages, usually with parallel sutures.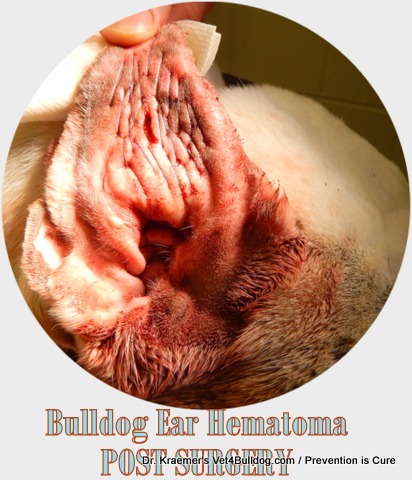 It's best to fix it as soon as possible, once the blood clots it will fibrous, harden, and scar.

The cartilage will crumple to a cauliflower appearance blocking Once this happens it can't be fixed except for amputating the pinna.
Ear Hematoma in Bulldogs and French Bulldogs TIPS & WARNINGS
Bulldog Aural Hematoma SUTURE PLACEMENT TIP:
The sutures should not be too tight because the ear tends to swell post-op. Also, because the suture remains for longer the surgeon should use a type that is not irritating
Bulldog Ear Hematoma SUTURE REMOVAL TIP:
In contrast to other soft tissue, surgery is usually taken out within 14 days. Ear hematoma sutures should remain for 3 weeks till good adhesions form between the external and internal cartilage.
Bulldog Ear Aural Hematoma CONE TIP:
Keep a buster collar for safety before and 1 week after the sutures are removed
Ear Hematoma In Bulldogs WARNINGS:
Bulldog Ear Aural Hematoma CAULIFLOWER WARNING:
Cauliflower ears are likely to block airflow to the ear canal predisposing it to dampness and ear canal disease or compound existing ongoing ear disease.
Bulldog And French Bulldog  Ear  Hematoma INFECTION WARNING:
The hematoma is typically sterile but in some cases, it can become abscessed. An example would be a bite or puncture. Those cases would likely require short-term antibiotics.
Bulldog Ear Hematoma TREATMENT FAILURE:
Aspirating the hematoma with or without a compressing bandage, with or without steroid injection is rarely successful. Usually, the dead space will fill up with blood soon after. It might be a temporary procedure pre-surgery or an option for very small hematomas.
"AN OUNCE OF PREVENTION IS WORTH A POUND OF CURE"

*This guide was compiled courtesy of Dr. Kraemer, a "MUST READ" manual for any current or future bully owner.