Description
V4B Total Joint Care for Bulldogs and French Bulldogs Under 59 lb
V4B Bully Total Joint Care is a unique blend of ingredients designed to help restore your bulldog's bone and joint function.
The members of this bulldog community prefer prevention over RX
Bulldog Advance Total Joint Care Formula brings the essential cartilage building blocks and novel antioxidants to help slow joint degradation, reduce pain, and improve comfort.
Bulldog Advance Total Joint Care Chews are IDEAL FOR:
Pre and Post-Bulldog orthopedic surgeries
Elderly bulldogs and seniors
Bulldog and French Bulldog Arthritis
Prevention for breeds prone to orthopedic joint problems
Prevention for breeds prone to back problems
Joint lubrication & flexibility

Recommended by owners approved by bulldogs.
MANUFACTURING STANDARDS:
V4B products are manufactured to the highest quality specifications in FDA-approved facilities under strict CGMP ("Current Good Manufacturing Practices") standards.
NASC QUALITY SEAL MEMBER:
The National Association Supplement Council (NASC) Quality Seal identifies products from companies that are committed to quality, vigilance, and continuous improvement to promote the well-being of companion animals.
Prevention is Cure: The key to a healthy bulldog puppy is prevention which is this website's central theme.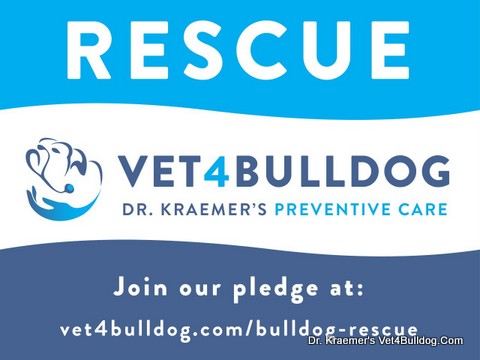 % of all Dr. Kraemer's V4B product proceeds go to not-for-profit bulldog rescue organizations to help support, shelter, and treat their rescued dogs.
WARNING:
Keep out of the reach of children. In case of accidental overdose, contact a health professional immediately.
CAUTIONS:
Safe use in pregnant animals or animals intended for breeding has not been proven. Consult your veterinarian before using this product in animals: with clotting disorders; being treated with anticoagulant medications; diabetes, or any metabolic disorder causing hyperglycemia; a history of urinary tract stones; known allergies to shellfish.
STORAGE TIPS:
Store at a controlled room temperature.