Description
V4B Dental Hygiene Chews for Bulldogs and French Bulldogs Over 49lb PlaqueLess & TartarLess 
V4B Dental Hygiene Chews for Bulldogs and French Bulldogs Over 49lb can help reduce tartar, fight bad breath and improve overall pet oral hygiene, they are designed with the busy bulldog owner in mind, it is easy, convenient, tasty, and effective.
Bully Dental Hygiene Chews should be used as part of every bulldog owner's dental health routine to help reduce tartar, fight bad breath and improve patient compliance.
Bully Dental Hygiene Chews (TartarLESS) is a 100% natural product made from seaweed that can significantly complement your pet's ordinary dental hygiene.
Dr. Kraemer's V4B Dental Hygiene Chews :
IMPROVES BAD BREATH: helps eliminate bulldog bad breath
PlaqueLESS: target bacteria and plaque and reduces tartar build-up,
PERIODONTAL DISEASE: helps to prevent periodontal disease.
SAFE: The bully dental soft chew formulation prevents chocking
100% NATURAL:  Natural Ingredients
TIME SAVINGS: are easy and convenient tooth cleaning, even when there is no time for brushing
TASTY: tasty and appealing to bulldogs.
NORTH ATLANTIC ALGA: The Bully Dental  Soft Chews naturally promote dental hygiene, oral care, and dental health by utilizing our North Atlantic specially selected harvested Ascophyllum nodosum alga
The American Veterinary Medicine Association (AVMA) recommends annual dental checkups and a daily tooth cleaning regimen to prevent harmful plaque and tartar buildup. Both bacteria and tartar can cause health problems and impact overall wellness and ability to enjoy life.
Bully Dental Hygiene Chews (PlaqueLess) APPLICATIONS:
If you are a bulldog owner who is simply too busy to stop and brush your bulldog teeth on a daily basis, or your bulldog will not tolerate tooth brushing then Dr. Kraemer's  V4B Dental Hygiene Chews are for you
Bulldog Dental Plaque Less Chwes WORKS BEST WITH:
V4B Bully Aqua Splash Water Additive 
V4B Bully Immune Support Plus
V4B Bully Probiotics
NASC QUALITY SEAL MEMBER:
The National Association Supplement Council (NASC) Quality Seal identifies products from companies that are committed to quality, vigilance, and continuous improvement to promote the well-being of companion animals.
The Quality Seal program is central to the NASC's efforts to help elevate and standardize the animal health supplement industry. To obtain permission to display the Quality Seal on their products and marketing materials,
NASC member companies must successfully pass an independent facility audit every two years, and demonstrate ongoing compliance
Dr. Kraemer's V4B Dental Care & Wellness line of products are specially formulated to maintain your bulldog and French bulldog oral health
% of all Dr. Kraemer's V4B product proceeds go to not-for-profit bulldog rescue organizations like the Southern California Bulldog Rescue Organization (SCBR) to help support, shelter, and medically treat their rescued dogs.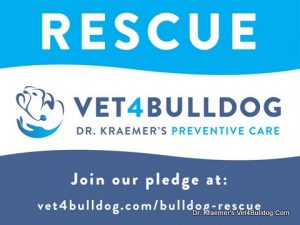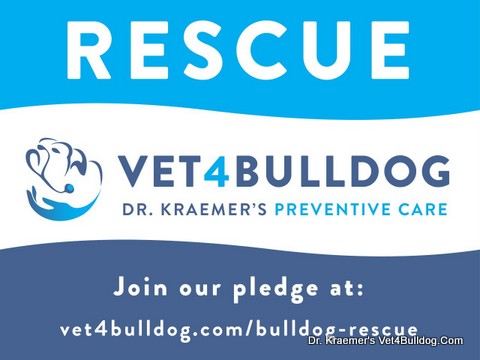 WARNING:
Keep out of reach of children. Not intended for human consumption.
If the animal's condition worsens or does not improve, stop product administration and consult your veterinarian.
STORAGE TIPS:
Keep the container tightly closed in a cool and dry place.
Size: 30  Dental Chews