Missing Bulldog Found 80 Miles Away 4 Years Later: Chico
A missing Bulldog Rescued By Dr. Kraemer and Staff Thanks to a Microchip
After 4 years of separation, a bulldog is reunited with his owners.  Chico, a beautiful English bulldog, disappeared from his Victorville home 4 years ago without a trace. But thanks to Dr. Kraemer and his staff at the Animal Hospital and a piece of electronics the size of a grain of rice, he reappeared 80 miles away in Santa Ana, living under the name of Rosco.
"We've never had a case like this, where someone got a dog back after four years,"
said Cpl. Sondra Berg, supervisor for Santa Ana Police Department's Animal Services.
"I'm glad the owners had the wherewithal to microchip him as a puppy – it's like a LoJack for dogs."
Louie and Eleanor Amezquita live in a two-story, tan-stucco house in Victorville and bought a puppy from a breeder for $1,800. Louie Amezquita was a big fan of the classic 1990s comedy "Friday," in which the main character had a bulldognamed Chico. Hence, that would become the name he gave to his dog. In October 2004, eight months after getting him, Louie Amezquita was in the garage. It was a sunny morning, shortly after dawn. As he opened the garage door to pull his van out for work – he installs tile and granite –the pooch took off. Louie and Eleanor looked everywhere. So did their four teenage children: Louie Jr., who was 19; Valerie, 18; Raymond, 16; and Andrew, 15. They put up flyers, filed a police report, and for four months searched the streets. But even with the police on his trail, Chico was nowhere to be found. The couple was so distraught by the loss of their dog that Eleanor Amezquita's sister bought them another English bulldog they named Chico Jr.  But within a few months, Chico Jr. had disappeared as well.
4 years later, a couple showed up at the Animal Hospital in Santa Ana with a beautiful male bulldog named Rosco. They were on their way to Mexico, and they came to see Dr. Kraemer for a physical exam and a health certificate since they wanted to take Rosco over the border with them (Travelers need a Department of Food and Agriculture Health Certificate, which requires a veterinarian to sign off on the animal's health). The Animal Hospital has a special scanner that reads most brands of microchips, so when the tech scanned the dog along the back of its neck where chips are usually injected, a microchip ID number came up, one the couple knew nothing about. When Dr. Kraemer called the microchip company to inquire – information on the dog showed contact numbers for the Amezquitas, the original owners, and that there was a police report for the missing dog.
Dr. Kraemer called the Amezquitas.
"We were both excited – the kids were excited, too,''
Eleanor Amezquita said.
"Everybody was close to the dog."
Santa Ana's Animal Services were also contacted.
"I called the people who had the dog in their possession,"
Cpl. Berg said. "She was already at the airport getting ready to leave. The woman was distraught that the Amezquitas wanted their dog back.
I'm trying to make you understand that if you don't give the dog back, you're in serious legal trouble,"
Berg told her. That afternoon, a friend or family member of the departing couple dropped the dog off at Dr. Kraemer's Hospital.
To view this amazing bully tale on video as filmed by the OC Register team go to our
MediaRoom page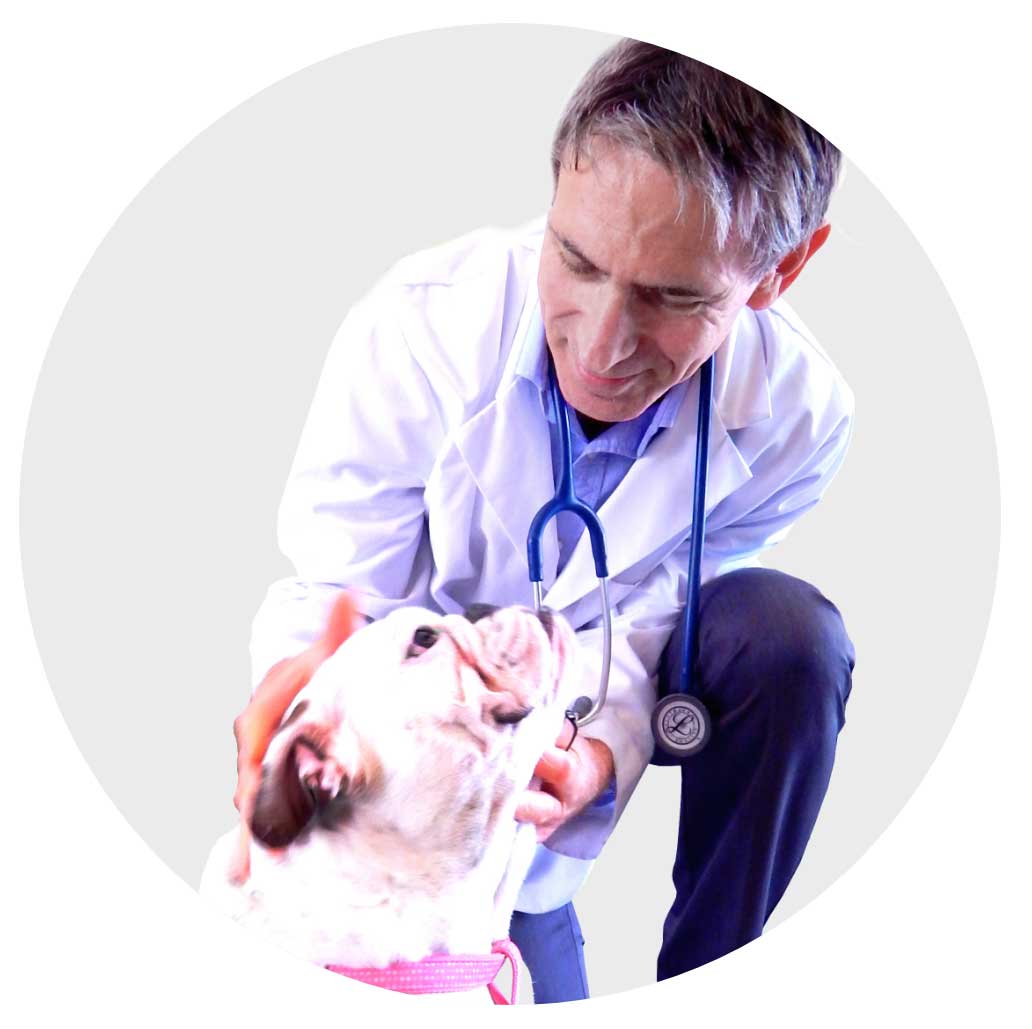 Dr. R.J. Kraemer Dr. Kraemer is a Tufts Veterinary School 1991 Graduate (Boston, MA). He is a member of the AVMA (American Veterinary Medical Association) and the SCVMA (Southern California Veterinary Medical Association) and has been practicing veterinary medicine and surgery in Orange County, California for over 20 years. Dr. Kraemer has a special interest in Bulldogs, French Bulldogs and other Brachycephalic breeds, and their unique medical and surgical needs, such as breathing and airways conditions, joint pain, ligament and tendon injuries, ear canal disease, skin and allergy problems, eyes and eyelid abnormalities, as well as other medical conditions related to the breed. Dr. Kraemer is also a leading provider for in-house same-day stem cell therapy and cryobanking for dogs and cat. Dr. Kraemer has a long-lasting relationship with bulldog rescue, he provides shelter, medical and surgical services to their bulldogs.