UTI due to Vaginal Fold Dermatitis in Bulldogs
UTI due to vaginal fold dermatitis in bulldogs and French bulldogs typically presents as a  recurrent UTI
UTI due to Vaginal Fold Dermatitis in Bulldogs CAUSE
Vaginal Fold Moist Dermatitis occurs in female bulldogs that have excess skin fold around their private area (Perivalvular).
A hooded vulva which is a fold-over-the-top part can exasperate the problem.
UTI due to Vaginal Fold Dermatitis in Bulldogs PRESENTATION:
REDNESS: around the vulva but mostly inside the folds
INFLAMMATION & INFECTION: bacteria & yeast organisms
ITCH & PAIN: rubbing, scooting, biting of the back end
BAD SMELL
MOIST & DAMP
UTI & CYSTITIS: the infected skinfold mycobacterium can travel up the urinary tract to the bladder leading to urinary tract infection
As with all bulldog and Fr. bulldog deep skinfolds, the warm, humid, damp and moist conditions are a breeding ground for bacteria and yeast.
UTI due to Vaginal Fold Dermatitis in Bulldogs PREVENTION:
DRY: Keep the folds dry, for prevention or a mild case a few times a day are sufficient. For most cases, you will need to use therapeutic antiseptic topicals and augment them with therapeutic supplements
BULLDOG THERAPEUTIC ANTISEPTIC TOPICALS
For more severe cases, the recommendation is to use Dr. Kraemer's V4B topical therapeutics daily
BULLY ANTISEPTIC SKINFOLD LOTION
BULLY ANTISEPTIC SKINFOLD SPRAY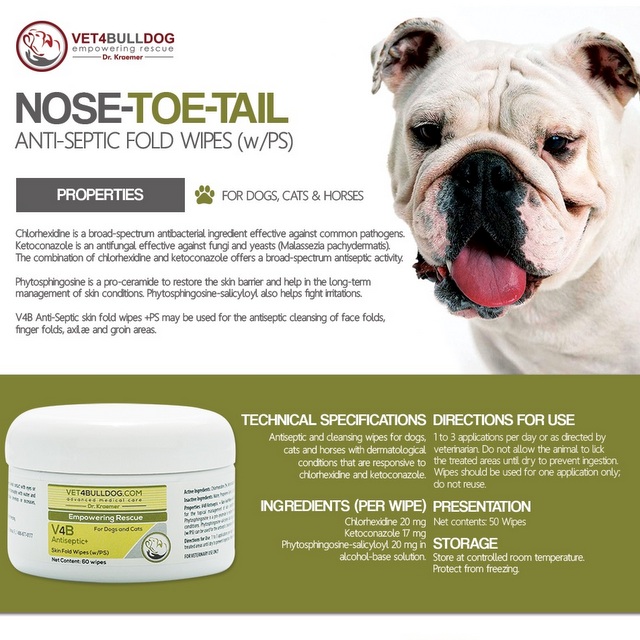 BULLDOG THERAPEUTIC SUPPLEMENTS
BULLY FISH OIL SKIN-IMMUNE-JOINT
BULLY COMFORT & ACHE-LESS
BULLY IMMUNE SUPPORT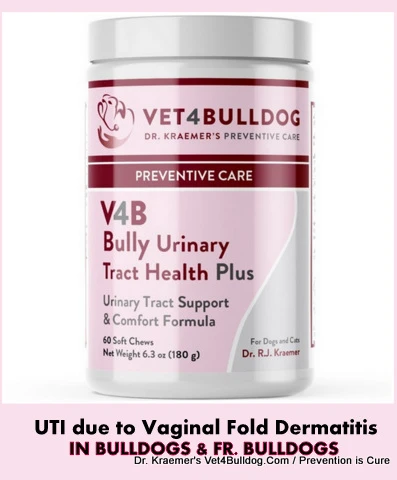 UTI due to Vaginal Fold Dermatitis in Bulldogs SURGERY:
UTI due to Vaginal Fold Dermatitis in Bulldogs TIPS & WARNINGS:
Tip#1 ANATOMY: Familiarize yourself with the curvature and depth of the folds with your fingers.
You might find it easier to roll your bully on her back or side, which better exposes the folds and makes them more accessible.  Use Dr. Kraemer's medicated antiseptic wipes  V4B Skin-fold Wipe or Bully Skin-fold Lotion to clean both sides up and down on a daily basis.
Warning #1 SURGERY: When vaginal fold dermatitis leads to chronic, persistent UTI, and/or to severe and persistent moist dermatitis, I usually recommend surgical removal of those folds (Episioplasty or Vulvaplasty in Bulldogs Vaginal Skin Fold Pyoderma Dermatitis).
Warning #2 ANAL GLAND IMPACTION: Some owners and pet care professionals will mistakenly assume that the pet's sensitivity and rear-end itching is due to anal gland impaction and/or parasites.
It is easy to miss the true problem due to the vagina being low and under the rear end in its anatomical location. 
"AN OUNCE OF PREVENTION IS WORTH A POUND OF CURE"

*This guide was compiled courtesy of Dr. Kraemer, a "MUST READ" manual for any current or future bully owner.