Description
Skin & Coat Derma-Care for  Bulldogs and French Bulldogs
Bully Skin & Coat Tab Formula is a brewer-dried yeast that is rich in B vitamins.
It boosts B-complex vitamins such as
Thiamine B1
Riboflavin B2
Niacin B3
and Antioxidants.
It can help the medical condition associated with your bulldog's skin and coat and aid with your bulldog's overall health.
The members of this bulldog community prefer prevention over RX
Bulldog Skin and Coat Derma-Care  HELP PREVENT & CARE:  
Skin, coat, and Nails Health

Dermatitis

(allergy, mites, bacteria, yeast)
The Immune System
Anxiety
General Wellness
Flea Infestation

Recommended by owners approved by bulldogs.
MANUFACTURING STANDARDS:
V4B products are manufactured to the highest quality specifications in FDA-approved facilities under strict CGMP ("Current Good Manufacturing Practices") standards.
NASC QUALITY SEAL MEMBER:
The National Association Supplement Council (NASC) Quality Seal identifies products from companies committed to quality, vigilance, and continuous improvement to promote the well-being of companion animals.
Prevention is Cure: The key to a healthy bulldog puppy is prevention which is this website's central theme.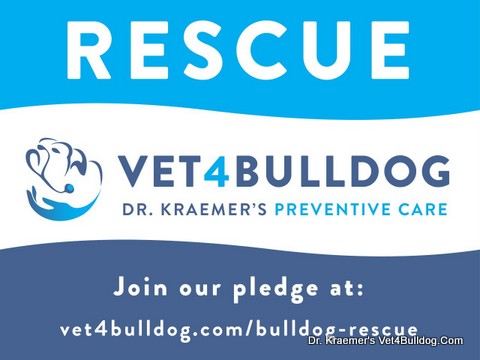 % of all Dr. Kraemer's V4B product proceeds go to not-for-profit bulldog rescue organizations to help support, shelter, and treat their rescued dogs.
Warning: For animal use only. Keep it out of the reach of children and animals.
Because this is a natural product, some variations in
color, flavor, and aroma may vary from batch to batch.
These variations do not affect this product's nutritional
value
If the animal's condition worsens or does not improve, stop product administration and consult your veterinarian. An examination from
a veterinarian is recommended prior to using this product.
CAUTION:
In the event of an accidental overdose, contact your veterinarian immediately.
STORAGE:
Store tightly closed at room temperature to ensure freshness.
For use in dogs