The 3 Limb Bulldog: Diesel
Diesel was a 7-month-old bulldog when he arrived at the Animal Hospital in Orange, CA in critical condition after his owners surrendered him following a dog fight at home. Diesel suffered several puncture wounds under his arms and a broken jaw after he was apparently left alone with an older family dog.
Southern California Bulldog Rescue (SCBR) agreed to foster the dog and see to his medical care. "The extent of his injuries is like nothing we have ever seen in rescue before," said SCBR's Melissa Kaplan. "We are uncertain as to whether it was the severity of his injuries, or delayed and inadequate medical care, but Diesel's wounds became severely infected," Kaplan said. "This led him to develop sepsis and to fall gravely ill. Scared and lacking resources, his family surrendered him to the Rescue on his 7-month birthday."
The infections along Diesel's underarms had spread and killed much of the skin along one leg, forcing an emergency life-saving limb amputation. Diesel was taken to Dr. Kraemer at his Veterinary Hospital Animal Hospital in Orange County, CA that same day and was immediately taken to ICU for lab work, x-rays, intravenous fluid replacement, broad spectrum antibiotics and pain relief medication. After the initial stabilization Dr. Kraemer and his staff prepared him for surgery. During his recovery Diesel was kept on fluids and several medications to combat any secondary infections, and the bandages on his other leg were changed on a daily basis. Dr. Kraemer also attended to his broken jaw. SCBR's Skip Van Der Marliere said that Diesel is learning to walk on three legs while the hospital staff works to control fluid buildup in his wounds.
"He's eating, drinking and learning to relieve himself on three legs," Van Der Marliere said. "He's having jaw surgery on Friday." Sandra and Roger, longtime SCBR rescuers, adopted Diesel and nursed him to a full recovery. Today, a year post-op, Diesel is full of vigor, happy and loving as only a bully can be. His remarkable adaptation was documented by Sandra on his one year anniversary. To watch the video of his astonishing display of agility CLICK HERE . To watch the NBC News Clip featuring Diesel – Success Storyhead over to our MediaRoom Page. Southern California Bulldog Rescue is a non-profit 501(c)(3) organization with the IRS #20-8382808. Contributions to Diesel's care are tax deductible and can be given online or by mail:
Southern California Bulldog Rescue PO Box 10313 Santa Ana, CA 92711 714-381-7691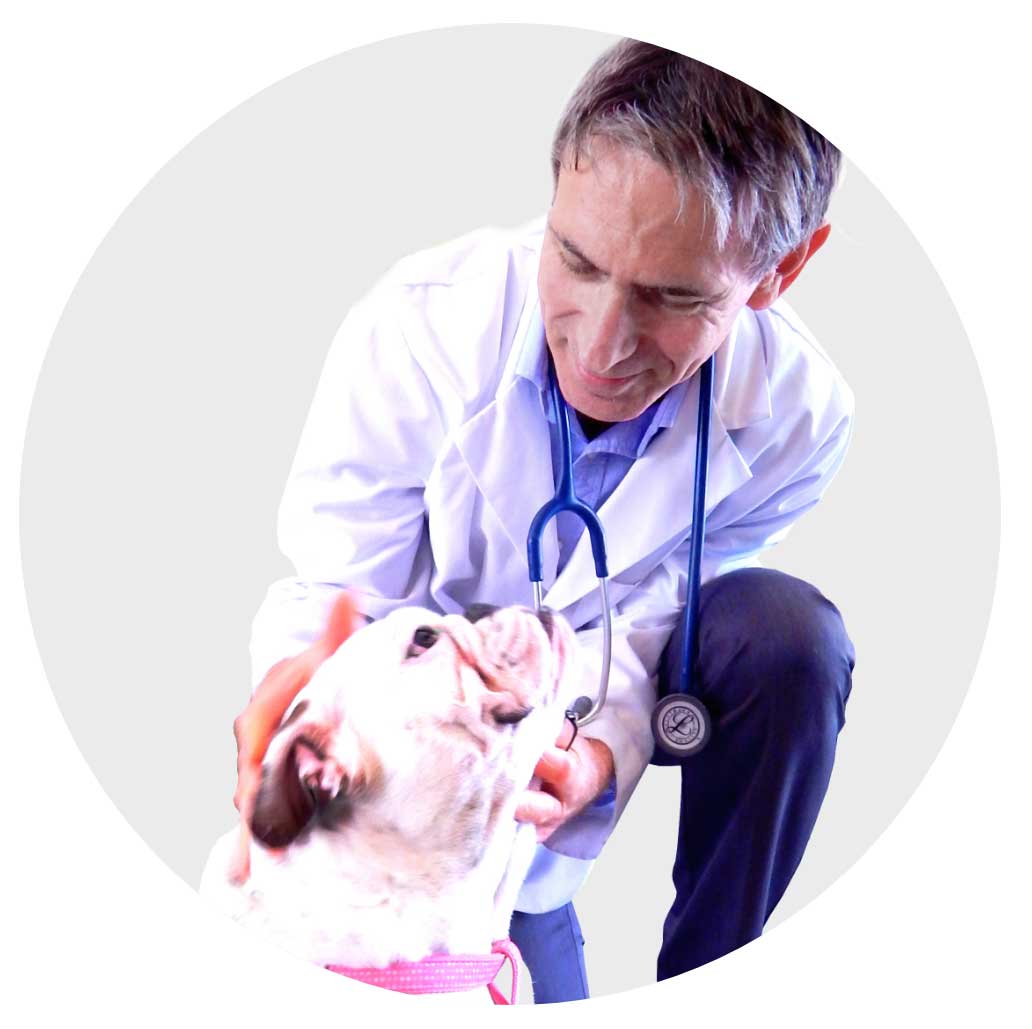 Dr. R.J. Kraemer Dr. Kraemer is a Tufts Veterinary School 1991 Graduate (Boston, MA). He is a member of the AVMA (American Veterinary Medical Association) and the SCVMA (Southern California Veterinary Medical Association) and has been practicing veterinary medicine and surgery in Orange County, California for over 20 years. Dr. Kraemer has a special interest in Bulldogs, French Bulldogs and other Brachycephalic breeds, and their unique medical and surgical needs, such as breathing and airways conditions, joint pain, ligament and tendon injuries, ear canal disease, skin and allergy problems, eyes and eyelid abnormalities, as well as other medical conditions related to the breed. Dr. Kraemer is also a leading provider for in-house same-day stem cell therapy and cryobanking for dogs and cat. Dr. Kraemer has a long-lasting relationship with bulldog rescue, he provides shelter, medical and surgical services to their bulldogs.