Bulldog and French Bulldogs Pain and Pain Control
Bulldog and French Bulldogs Pain and Pain Control
must be addressed in every level of veterinary care. Our perception of pain and how it affects our precious pets have dramatically changed. Owners of Bulldog and French bulldog awareness to pain and how it affects their pets quality of life has helped us with implementing effective pain management and maximize the standard of care.
Some of the overlooked painful condition in Bulldogs and French Bulldogs are:
Bulldog Ear Infections
Bulldogs Tail Pocket Skin Fold Infections
Bulldog Oral and Dental Disease
Bulldog Chronic Arthritis
Bulldog Urinary Tract Infections
Anal Gland Impaction
Those painful bulldog medical conditions and others like them can lead to bulldog hypersensitivity, stress, and anxiousness, which will impact healing and amplifies pain.
Thus, controlling pain in a timely manner is important.
Bulldogs and French Bulldogs Pain can present as:
Reduced Activity and Limping
Panting, Rapid Breathing and vocalizing (crying)
Shaking, Quivering, Abnormal Sleeping
Behavior Changes, Grumpy
Appetite changes
Hide, or Seek Attention, does not want to be touched
Urinating and Defecating in the house
Bulldog and French Bulldogs Pain and Pain Control must begin EARLY to avoid emotional and physical harm. I recommend a holistic approach that combines both traditional treatment as well as supplements, and new age therapies. Also, weight management, quality diet, and balanced nutritional management.
Listed here are some of the common bulldog pain control modalities:
Supplements Joint & Arthritis

Supplements Anxiety & Pain:
Class 4 Laser: Cold Laser Therapy
PRP: Platelet Rich Plasma
Regenerative Medicine Therapy: Stem Cell Therapy and Cyrobanking
Acupuncture
Physiotherapy
FDA Approved CBD (cannabidiol) Oils and THC(tetrahydrocannabinol) Warnnings: Bulldogs are highly sensitive to the psychoactive component of THC. Most CBD oils are from the hemp plant, it has a high safety rating and has shown to improve and help multiple conditions in bulldogs and French bulldogs including Unfortunately, they are still considered illegal for sale by veterinarians and in some states, veterinarians are not even allowed to talk about CBD & THC merits and risks. As always, you should follow my "do no harm rule", do your due diligence and only buy from a reputable pharmacy that sells FDA approved productd.
Other
Bulldog and French Bulldog suffer from pain as we do and should be provided the same pain control for chronic or acute pain. Pain control for bulldogs also includes pre and post-surgery and dental procedures.
Remember your bulldog feels pain but might not show it as you would. Your bulldog is wired to hide pain due to pre domestication evolutionary advantage.
Dr. Kraemer's

V4B Comfort Plus Formula

for Bulldogs and French Bulldogs Extra Strength Formula
contains natural active botanicals that can help relieve minor aches and discomfor
t.
It can help pets suffering from:
Pain due to a back injury
Pain due to arthritis
Pain due to orthopedic injuries
Post-Operative Pain
Pain due to ear infections
Pain due to tail fold dermatitis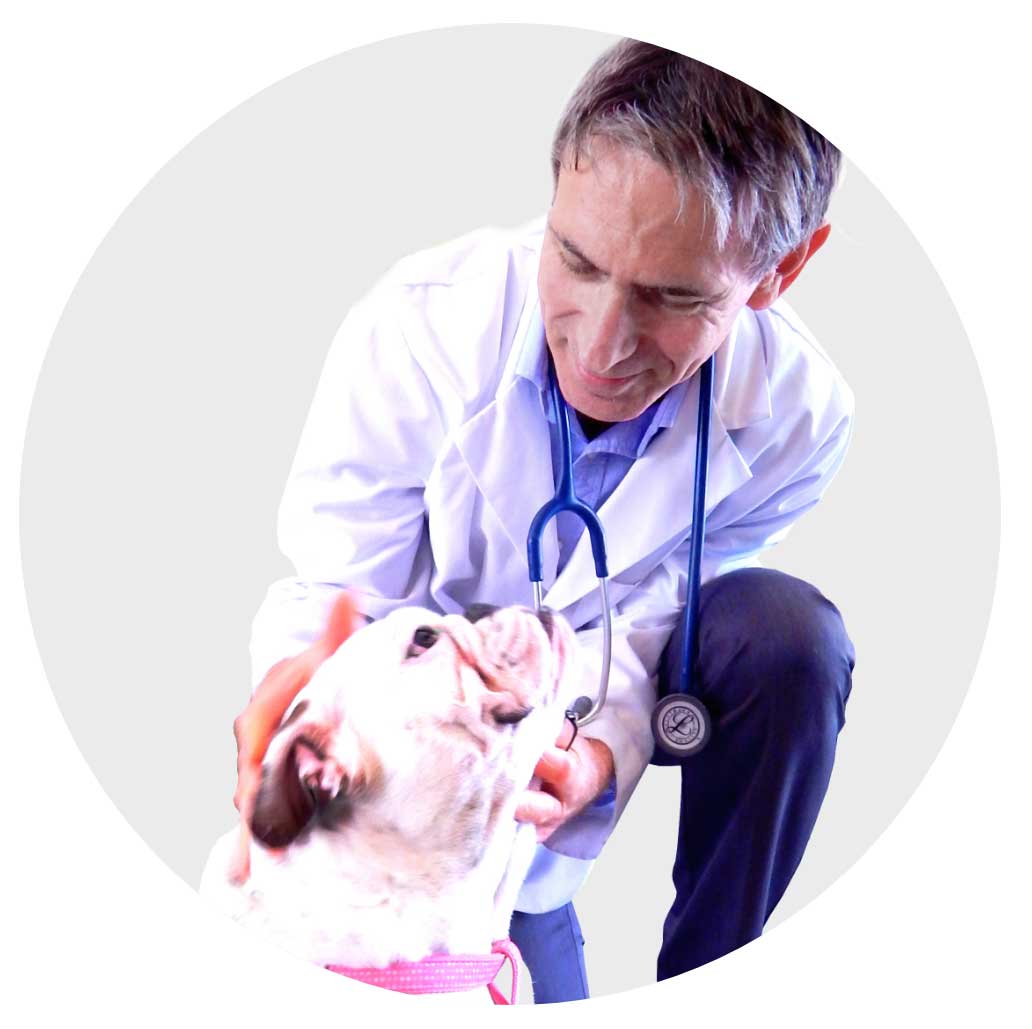 Dr. R.J. Kraemer Dr. Kraemer is a Tufts Veterinary School 1991 Graduate (Boston, MA). He is a member of the AVMA (American Veterinary Medical Association) and the SCVMA (Southern California Veterinary Medical Association) and has been practicing veterinary medicine and surgery in Orange County, California for over 20 years. Dr. Kraemer has a special interest in Bulldogs, French Bulldogs and other Brachycephalic breeds, and their unique medical and surgical needs, such as breathing and airways conditions, joint pain, ligament and tendon injuries, ear canal disease, skin and allergy problems, eyes and eyelid abnormalities, as well as other medical conditions related to the breed. Dr. Kraemer is also a leading provider for in-house same-day stem cell therapy and cryobanking for dogs and cat. Dr. Kraemer has a long-lasting relationship with bulldog rescue, he provides shelter, medical and surgical services to their bulldogs.