Cryobanking Pets Stem Cells Must Know
Cryobanking Pets Stem Cells is a "
Low Cost, minimal Risk, Stem Cell Cryopbanking
Service"
now offered by Dr. Kraemer at
Vet

4

HealthyPet Advanced Medical care
pet hospital located in the city of Orange in southern California. Stem Cell therapy offers many benefits to common ailments including
arthritis
, hip and
elbow dysplasia
, other
orthopedic and joint problems
as well as many other immune mediated and inflammatory diseases (see list below).
Cryobanking Pets Stem Cells is life saving. Cryobanking Pets Stem Cells is our new "
Low Cost minimal Risk Stem Cell Cryopbanking
" insurance program allows harvesting your pet stem cells during routine elective anesthetic procedures (i.e.
spay

,

neuter
,
cherry eye
and
entropion repair
,
elongated soft palate repair
, etc.) and then
cryobanked
for future medical conditions and emergencies.
Eliminate Age Related Risk: Older pets have higher risk of adverse events during anesthesia.
Minimal Extra Anesthetic: Harvesting stem cells adds a few minutes to the elected anesthetic protocol.
Low Cost: fraction of the cost.
Empower Rescue: Dr. Kraemer will donate a large stem cell kit (worth 1500 dollars) to SCBR for every 20 cryobanking procedures he performs
Stem Cell Therapy Applications
Hip Dysplasia
Elbow Dysplasia
Joint Pain
Degenerative Joint Disease
Combined with Orthopedic Surgeries

The benefits of Stem Cell Therapy to your pets
Torn ligaments and tendons (i.e.

ACL Tears

)
Fractures
Skin Allergies (

Atopic Dermatitis

)

Dry Eye

(KCS)
Kidney disease
Polyarthritis
Harley and English bulldog was treated with stem cell therapy for a severe painful debilitating elbow dysplasia
Watch Harley Video BEFORE Stem Cell Therapy
Watch Harley Video AFTER Stem Cell Therapy
Cryobanking Pets Stem Cells is the future of preventative veterinary medicine and pet wellenss. Banking your puppies, kittens, bulldogs and French bulldogs puppis stem cells at a young age during an elective surgery like spay or neuter is very elegant, fast, minimal cost, safe, and extremely valuable to your pets future well being and at times life saving. Think about it as as a inexpenssive life insurance policy whereby you are storing your dog and cat own repair cell to be called upon at a day notice as treatment for a wide range of medical maladies.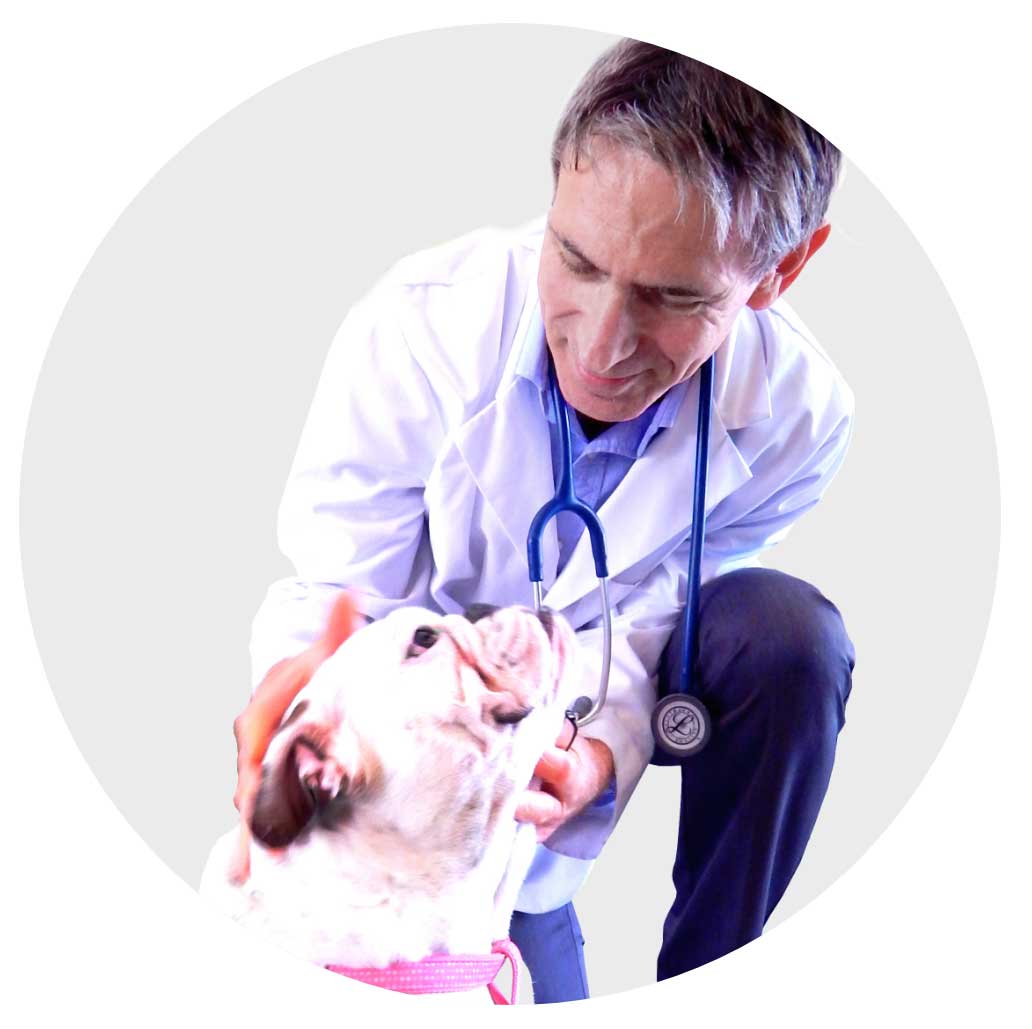 Dr. R.J. Kraemer Dr. Kraemer is a Tufts Veterinary School 1991 Graduate (Boston, MA). He is a member of the AVMA (American Veterinary Medical Association) and the SCVMA (Southern California Veterinary Medical Association) and has been practicing veterinary medicine and surgery in Orange County, California for over 20 years. Dr. Kraemer has a special interest in Bulldogs, French Bulldogs and other Brachycephalic breeds, and their unique medical and surgical needs, such as breathing and airways conditions, joint pain, ligament and tendon injuries, ear canal disease, skin and allergy problems, eyes and eyelid abnormalities, as well as other medical conditions related to the breed. Dr. Kraemer is also a leading provider for in-house same-day stem cell therapy and cryobanking for dogs and cat. Dr. Kraemer has a long-lasting relationship with bulldog rescue, he provides shelter, medical and surgical services to their bulldogs.