Description
V4B Ear Cleansing Wipes for Bulldogs and French Bulldogs
V4B Ear Cleansing Wipes for Bulldogs and French Bulldogs are effective, quick, easy-to-use ways of keeping your bulldog and French bulldog's ears infection-free, clean, dry, and odorless.
The members of this bulldog community prefer prevention over RX
Bulldog Ear Cleansing WaxLess Wipes RECOMMENDED
Bully ear wipes are recommended for your bulldog ear maintenance and are ideal to remove dirt, wax, debris, and discharge from the ear canal, ear flap, inner pinna folds, and all around the ear.
An alcohol-free, non-irritating ear cleanser
Formulated to gently clean, dry, and acidify your bulldog and French bulldog ear canal
Helps to eliminate unpleasant odors.
Pleasantly scented, it will not sting or burn your bulldog ears and is safe for daily use.
Bully Ear Cleansing Wipes are formulated to help prevent microbial activity.
Bulldog WaxLess Drying & Acidifying Ear Rinse can Help PREVENT & TREAT
Otitis Externa
Allergic Otitis
Yeasty Otitis
Bacterial Otitis
End-Stage Stenotic Ear

Recommended by owners approved by bulldogs
MANUFACTURING STANDARDS:
V4B products are manufactured to the highest quality specifications in FDA-approved facilities under strict CGMP ("Current Good Manufacturing Practices") standards.
Prevention is Cure: The key to a healthy bulldog puppy is prevention which is this website's central theme.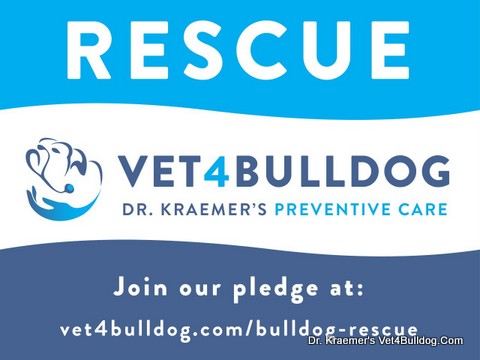 % of all Dr. Kraemer's V4B product proceeds go to not-for-profit bulldog rescue organizations to help support, shelter, and treat their rescued dogs.
CAUTIONS:
For external use on dogs and cats only. Avoid contact with the eyes. In case of contact with eyes, rinse thoroughly and consult your Dr. If skin irritation
occurs or increases, discontinue use and consult with your veterinarian.
WARNING:
For animal use only. Keep out of the reach of children and animals. In case of accidental overdose, contact a health professional immediately.
STORAGE TIPS
Store at room temperature. Do not freeze.