Stenotic Nares in Bulldogs and
French Bulldogs
Stenotic Nares in Bulldogs and French Bulldogs
Stenotic Nares in Bulldogs and French Bulldogs is only one manifestation of a bulldog airway condition that falls under the "flat face" (brachycephalic airway syndrome) vernacular. Other BAS common manifestation includes Elongated Soft Palate, Everted Laryngeal Saccules, hypoplastic trachea, and other secondary issues such as excessively swollen obstructive tonsil and laryngeal cartilages atrophy (i.e. laryngeal collapse).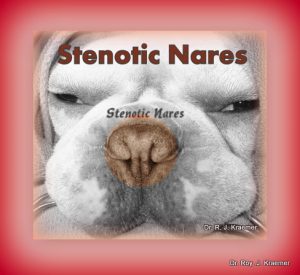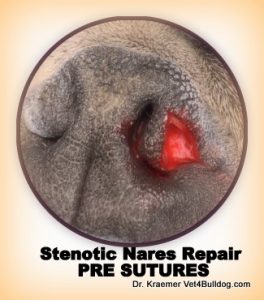 Stenotic Nares in Bulldogs and French Bulldogs CAUSE:
The cause of bulldogs finched nose is due to atrophy and then collapse of the nares cartilage. This narrowing causes a restriction in the amount of air that can flow into and through the nostrils.
Stenotic Nares in Bulldogs and French Bulldogs PRESENTATION:
Bulldog puppies with stenotic nares will typically exhibit snorting, gasping, noisy breathing (i.e. STERTOR) during inspiration. Most will snort when excited and snore when relaxed or asleep. Severely affected bulldogs will exhibit more pronounced airway noise, tire easily with exercise,  often retch, and even collapse.
Many bulldogs and French bulldog with stenotic nares exhibit apnea and stertor (snorting) while asleep.

Stenotic Nares is common in English bulldog puppies and VERY common in French Bulldogs
Stenotic Nares in Bulldogs and French Bulldogs DIAGNOSIS:
The diagnosis of stenotic nares is usually made during the physical exam via a visual inspection.
Dr. Kraemer's V
4
B Stenotic Nares in Bulldogs and French Bulldogs MAINTENANCE
WEIGHT CONTROL: weight control is instrumental in proper bulldog care for those suffering from BAS problems.
CONTROLLED ACTIVITY: avoid strenuous exercise
CLIMATE CONTROL: avoidance of hot or humid conditions
STRESS & ANXIETY: calmness and avoiding stress and anxiety is critical
Stenotic Nares in Bulldogs and French Bulldogs TREATMENT:
ANTI INFLAMMATORY RX: like cortisone or NSAID for short term relief of airway inflammation or respiratory distress.
TRANQULIZER RX: tranquilizers are critical in many cases of BAS
COLLING: BAS cases like those suffering from stenotic nares often overheat, cooling them down is critical.
OXYGEN: at times BAS patients become hypoxic and cyanotic a condition that requires oxygen therapy (cage, flow, mask).
SUPPLEMENTS:  If you cannot afford, or have to delay surgical treatment, you should provide a calm & cool environment, properer ventilation, restrict activity, and supplements that can help reduce anxiety and inflammation like Dr. Kraemer's V4B Bully Calm & StressLess,  V4B Bully Fish Oil Immune-Joint-Skin Chew
SURGERY: Bulldog stenotic Nares can and should be surgically corrected in order to allow improved airflow through the nostrils
It's important to note, however, that medical management of this condition does not correct the underlying anatomical abnormalities, but merely lessens the symptoms.
SURGERY is required for most of the BAS anatomic abnormalities that interfere with the patient's breathing  
Stenotic Nares in Bulldogs and French Bulldogs RULE of THUMB
There is an abundance of research and strong clinical evidence that suggests that even stenotic nares alone is likely to lead, to some degree, to the long list of bully medical problems associated with the "Brachycephalic Syndrome". Thus left untreated for a long period of time bulldog stenotic nares can lead to serious health problems
Stenotic Nares in Bulldogs and French Bulldogs TIPS & WARNINGS
TIMING: The earlier the nares are corrected, the better. I usually recommend having it done at the end of your bully growth phase around 8-12 month of age
TIMING BENEFITS: Early correction of stenotic nares and elongated soft palate will significantly improve airway function and should prevent the development of everted laryngeal saccules and other BAS secondary problems.
BULLDOG VET: seek a bulldog veterinarian that is familiar with the BAS problems and  experience and success repairing them
ELECTIVE SURGERIES: have the BAS problems repaired at the same time or before any elective procedures such as spay & neuter to avoid tragic post-op complications.
Stenotic Nares in Bulldogs and French Bulldogs PROGNOSIS
The overall prognosis for bulldogs and French bulldogs patients depends on
BAS: How many brachycephalic airway syndrome anatomic abnormalities are present
TIMING: How soon they are corrected.
"An Ounce of PREVENTION is Worth a Pound of CURE"


.