Puppy Prevention and Wellness in Bulldogs and French Bulldogs
Puppy Prevention and Wellness in Bulldogs and French Bulldogs can't be overlooked.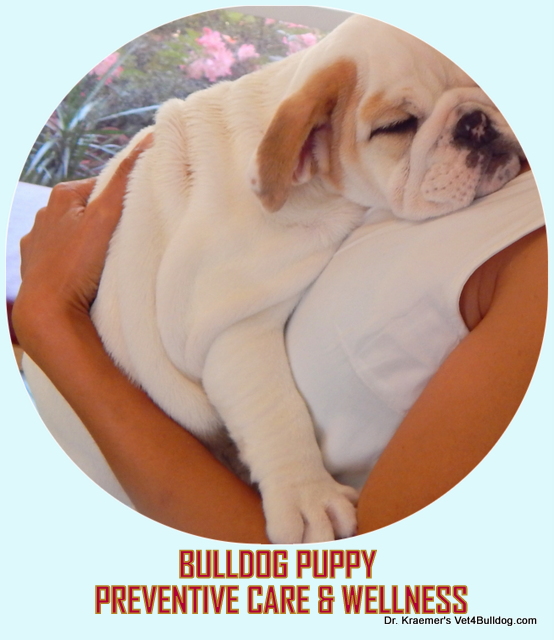 Some of the prevention and wellness measures are done daily others weekly or bi-weekly.
Dog age Years old
French bulldogs estimated in human years
English bulldogs estimated in human years
Bulldog And French Bulldog Puppy Prevention MUST DO
1. Bulldog Puppy GUID BOOK:
Bulldogs are high maintenance; advance preparation will save you financial and emotional distress. Your new bulldog puppy is bound to become an integral part of your family unit, a sound preparation will strengthen that bond.
Before you buy or adopt a bulldog puppy take the time to review an authoritative medical resource preferably one that specializes in the breed and focuses on prevention and wellness.
In order to maximize the associated benefits of  preventive care it must start early and maintained for the life of your pet
DR. KRAEMER'S VET4BULLDOG
Dr. Kraemer's Vet4Bulldog is an autorotative one-stop site centered on bulldog prevention care and wellness. It combines practical, easy-to-implement medical advice, preventive care, tips & warnings, and step-by-step practical treatment recommendations.
Vet4bulldog comprehensive content complies with 30 years of clinical experience, including general practice and emergency ICU critical care, For the last 20 years, Dr. Kremer founded, owned, and was the medical director of a bulldog specialty hospital that specialized in bulldog medicine, surgery, and anesthesia.
Dr. Kraemer's Vet4Bulldog mission and focus is PREVENTIVE CARE. We highly recommend that you use it as you're your primary bulldog care resource through your bully life- stages to help optimize health, longevity, and cost.
Vet4Bulldog.com is your one-stop bully guidebook
For more about bulldog preventive care click

HERE
2. Bulldog Puppy RESCUE VS. BREEDER:
There is a tremendous demand for bulldog puppies. The documented popularity of the English bulldog puppy is decades-long, bulldog ownership is now reaching a new high due to the recent rise in demand for French bulldog puppies.
BULLDOG BREEDERS & STORES
C-sections and artificial insemination are often required for pregnancies and births in brachycephalic breeds. Those conditions only intensify the dependency on breeders and stores to supply the public's wants and incentivize puppy mills and backyard breeders.
BULLDOG BOUTIQUE BREEDING
There is also a rise in "boutique breeding", a secondary market that provides controversial physical modifications to the breed standard. Examples are miniaturization and atypical coat colors. Unfortunately, those can be selected and linked to birth defects and congenital diseases.
SUMMARY: In summary, public demand combined with a lack of breeding/breeder oversight is a sure recipe for unethical practice that is high on profits and low on animal welfare.
Buy from a reputable breeder and avoid backyard breeders.
BULLDOG RESCUE
Before buying a bulldog or French bulldog puppy from a breeder or a pet store you should consider adopting from a bulldog rescue.
By adopting you provide medical care and a loving home to rescued bulldog puppies that often suffer neglect and/or abuse.
Most of the rescue groups provide essential wellness that includes screening tests, spaying & neutering, microchip ID, and a medical exam at a minimal fair cost. They are non for profit, so your financial contribution extends to rescuing other homeless puppies.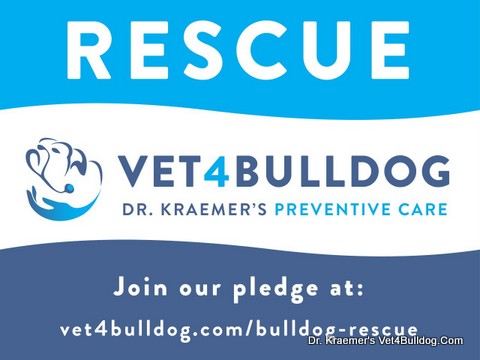 Dr. Kraemer has a long-lasting relationship with So Cal Bulldog Rescue and has been supporting other bulldog rescue groups both medially and financially.
More about Dr. Kraemer & Bulldog Rescue click

HERE.
3. Bulldog Puppy VETERINARIAN:
Find a veterinarian who is experienced with the bulldog puppy's idiosyncratic breed-specific medical problems. Make sure that your selected veterinary team has the expertise to prevent, care for, and if needed repair the breed's common health problems.
Selecting the right veterinary team is essential.
For more about Dr. Kraemer click

HERE
BULLDOG ANESTHESIA:
Your bully veterinarian should be well versed in the breed pre-anesthetic protocols, anesthesia induction, anesthesia monitoring, and post-op recovery.
Dr. Kraemer was the founder, owner, and medical director of a bulldog and French bulldog specialty hospital and the founder and owner of Vet4Bulldog.com. Both his hospital and website focus is bulldog preventive care.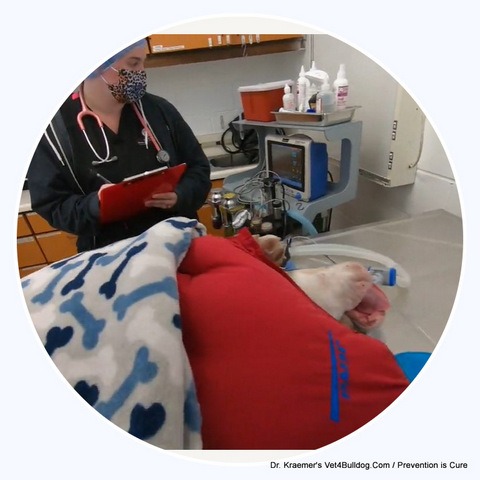 Dr. Kraemer is also one of the leading and early providers of alternative medicine that combined cutting-edge therapies such as stem cell therapy, Platelet Rich Plasma, and Cold Laser therapy complemented by his own line of therapeutic nonprescription bully topicals and bully supplements.
The local bulldog rescue group might be able to provide you with a referral to a bulldog vet.
For more about bulldog Anesthesia click

HERE
4. Bulldog Puppy PET INSURANCE:
Your bulldog puppy's chances to suffer from one or several of the breed's common medical conditions are high. Those problems can quickly become a huge financial burden and become emotionally and mentally taxing. Thus, I highly recommend that you purchase insurance from a top-rated national pet insurance company.
There are many pet insurances you can choose from, most will offer 80-90% coverage after meeting your deduction. Some also offer to pay for your bulldog puppy's wellness including services such as wellness exams, parasite and flea control, vaccination, and sterilization.
PET INSURANCE CLAIM APPLICATION
In contrast to your own medical insurance, the pet's medical claims are submitted by you, thus the veterinary bill is your responsibility. You will then submit the hospital receipts to the insurance for payment with you as the payee.
There are some pet insurances that except an estimate for an upcoming service and pay the hospital directly, in those cases you will only be responsible for your deduction portion.
BULLDOG PUPPY INSURANCE CLAIM DENIAL AVOIDANCE TIPS:
To avoid a denial on future claims you must adhere to the following rules.
Dr.Kraemer's RULE 1-ASAP: Get the insurance on day 1 or as soon as possible.
Dr. Kraemer's RULE 2- BULLY FRIENDLY: Make sure that the insurance you pick is "bulldog friendly" one that covers breed-related problems such as stenotic nares, elongated palate, and MPL.
Dr. Kraemer's RULE 3 EXAM: Make sure to have your puppy examined by a veterinarian as soon as possible, preferably one that specializes in the breed. Many insurances will not activate the insurance or honor claims before this exam.
Dr. Kraemer's RULE 4 -BULLY VET: Make sure to go over the medical exam findings with the Dr. before you depart that day. The veterinarian should be experienced with the breed and with how the insurance companies process the breed claims. The insurance will misscongroate
To avoid a "pre-existing condition" claim denial you must get the pet insurance as EARLY as possible.
5. Bulldog Puppy V
4

B THERAPEUTIC SUPPLEMENTS:

Dr. Kraemer's bully therapeutic preventive supplements are an ideal solution to ensure your puppy's current and future good health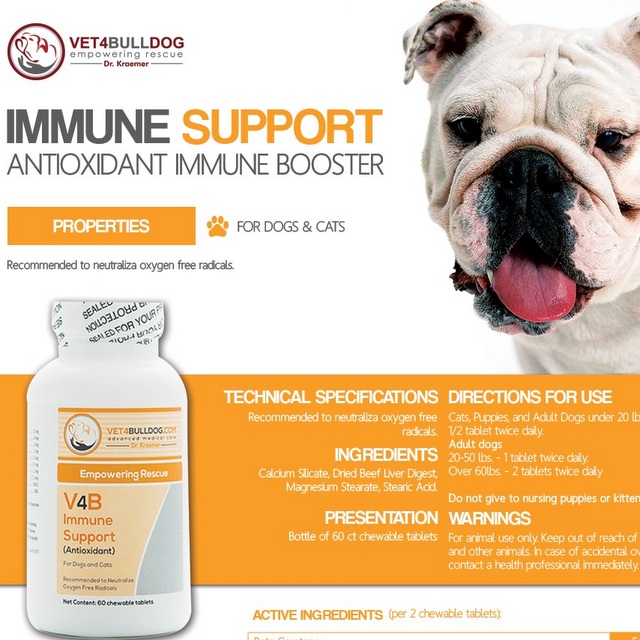 Dr. Kraemer's V4B Bully Supplements are:
INEXPENSIVE
SAFE
EASY TO IMPLEMENT
NON-PRESCRIPTION
TASTY
@ HOME ALTERNATIVE
Dr. Kraemer's vet4bulldog's core mission is prevention via a non-pharmaceutical alternative modalties . 
To learn more about Dr. Kraemer's V

4

B Bully Therapeutic Supplements click HERE
6. Bulldog Puppy V
4

B THERAPEUTIC TOPICALS:

Just like Dr. Kraemer's V4B bully supplements his bully topical therapeutics are low-cost, safe, and easy to implement.

Dr. Kraemer's V4B therapeutic line of bully products offers a wide range of topicals that help implement long-term preventive care.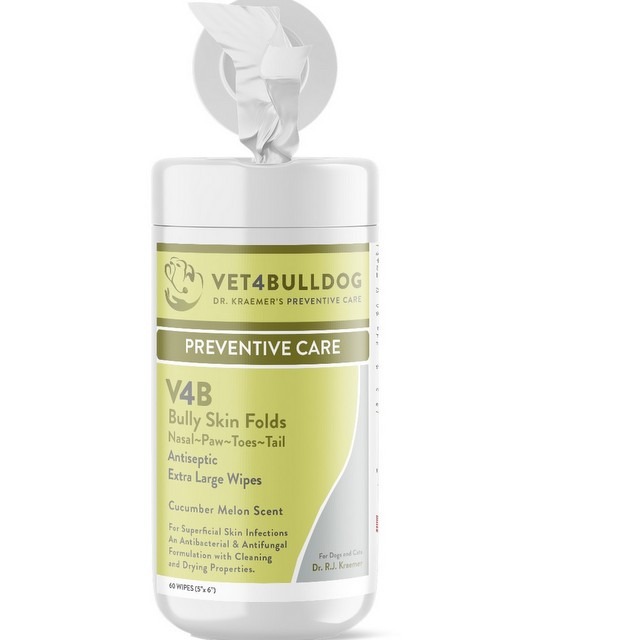 The V4B bully therapeutic topicals include:
MEDICATED SHAMPOO
MEDICATED CREAM RINSE CONDITIONERS
MEDICATED GELS & LOTIONS
MEDICATED WIPES
MEDICATED RINSES & SPRAY
To learn more about the V

4

B therapeutic bully topicals click HERE
7. Bulldog Puppy INTESTINAL PARASITE PREVENTION (FECAL & DEWORRMING):
Puppies can suffer from a wide range of parasitic infestations both topically and internally.
Bulldog and French bulldog intestinal parasites include both worms and contagious protozoan organisms. Those parasites can be acquired from the environment, from the mom, or from another parasite such as fleas.  Those parasites can cause serious physical harm to your bulldog puppy, the harm can be compounded due to the puppy's incompetent immune system and physical immaturity.
Early parasitic preventives are vital for the well-being of your bulldog puppies
PUBLIC HEALTH ZOONOSIS:
Intestinal parasitic prevention is critical for the safety of your kids and family. Many of those parasites are contiguous and harmful to humans. Children are especially vulnerable due to their immature immune systems and lack of understanding of proper hygiene practices.
Intestinal parasitic prevention is critical for the safety of your kids and family
INTESTINAL PROTOZOA in Bulldog and French Bulldog Puppies:
The common protozoa are contracted from the environment and water sources contaminated by fecal material.
They are very contagious, thus easily spread at boarding and breeding facilities.
DIAGNOSIS:  Diagnosis is usually done by a fecal test and based on matching clinical signs. The common clinical signs are diarrhea, often with blood, vomit, weight loss, dehydration, and stunted growth.
PREVENTION: Prevention includes stress-free living, therapeutic supplements, vaccines, environmental control, and sound hygiene.
TREATMENT: Treatment includes dewormers and in severe cases hospitalization supportive medicine and fluids.
To learn more about bulldog puppy protozoa click HERE
INTESTINAL PARASITE in Bulldog and Fr. Bulldog Puppies
Roundworms
Tapeworms
Hookworms
Intestinal worms are common in puppies, Roundworms are passed by the mom and reside in your puppy's GI tract, they are long round spaghetti looking. At times they will show in your puppies' feces or/and turn out in vomit. Your puppy might also present exhibiting a pot belly and stunt growth. Tapeworms are carried by fleas, when the flea gets licked and swallowed by the pup the adult tapeworm is born. Hookworms can latch to the intestine wall and cause anemia
DIAGNOSIS: Part of the diagnosis is based on physical signs, physical evidence of the parasite in vomit or stool, and of course their presence on a microscopic fecal test.
PREVENTION: Preventive Care includes proper nutrition, therapeutic supplements to boost the immune system and reduce stress and anxiety, routine fecal testing and prophylactic dewormings, and proper hygiene
TREATMENT: Treatment includes deworming and symptomatic support.
8. FLEAS & SKIN PARASITE PREVENTION in Bulldog and Fr. Bulldog Puppies
Fleas
Sarcoptic Mange Mite
Demodex Red Mite
Dermatophytes "Ringworms"
Fleas are heat sensitive thus they thrive in a warm climate but not so much in hot or cold ones
DIAGNOSIS:  In most places, they can be seen during the warm months on your pet's coat and skin over the belly or the back. They feed on your pet's blood thus you might recognize their presence by finding their fecal material. Flea poop is digested blood seen as black pepper-like deposits on your pet's fur.
Intense itching and hair loss around the back and the base tail are consistent with a flea allergy, in contrast to cats a large percentage of dogs are allergic to flea bites.
PREVENTION: Prevention includes flea prevention and regular combing to check for fleas and flea poop. As always keep your puppy healthy, in a stress-free clean environment, and practice good hygiene.
Other skin parasites are demodex mites that are common to bulldog puppies at their mild juvenile localized form, it's usually self-limited and will subside once the puppy's immune system matures. It usually presents as non-itchy focal baldness.
In contrast to the puppy's mild focal demodicosis, the adult type is usually generalized, diffuse, and dramatic. It tends to last, can progress in its severity, and become itchy due to secondary infection.
DIAGNOSIS: Skin scrapes with oil under low power microscope
PREVENTION: Reduced stress to avoid suppression of the immune system, therapeutic immune boosting, and calming supplements.
TREATMENT: For the puppy form usually topical medicated bully antiseptic degreasing shampoos and gels as well as bully supplements to boost the immune system as mentioned above. Some flea preventives also can help treat and prevent demodex.
The adult form might require antibacterial and antifungal topical and systemic treatment for secondary infections
Bulldog puppy demodex is not contagious.
To learn more about bulldog demodicosis click

HERE
9. HEART & HEART VESSELS PARASITE PREVENTION in Bulldog Puppies
Heartworms are transmitted to your bulldog puppy by a mosquito bite. The parasite ends up clogging the main heart vessels and heart chambers. Mosquitoes are more common in some regions thus you can consult your veterinarian about your regional status.
DIAGNOSIS: Your bulldog might exhibit fatigue, persistent cough, exercise intolerance, and distended belly-filled fluid and end in fetal heart failure. Due to the heartworm cycle, the lab test is only effective at six months of age and above. We can also find them in a blood sample under a microscope and often evidence of their pathology on radiographs and/or ultrasounds.
PREVENTIVE: indoor, mosquito prevention/control. There are multiple preventive products in oral topicals and injectables that should be used annually in endemic areas.
TREATMENT: You want to avoid treatment by proper prevention. The treatment can be dangerous, expensive, and require long confinement.
PARASITE PREVENTIVE in Bulldogs and French Bulldog Puppies
Fecal Test
Environmental Control
Oral Preventives
Topical Preventives
Injectable Preventives
Bully Topical & Supplement Therapeutic
To read more about bulldog and French bulldog Heartworm click

HERE
10. VACCINATION PREVENTION in Bulldog and Fr. Bulldog Puppies
Bulldog and French bulldog puppies usually require a few vaccine boosters (3-4) of the core vaccines.
BULLDOG PUPPY CORE VACCINES
Parvovirus
Distemper
Adenovirus
and Rabies
Non-core puppy vaccines are optional and per case and situation and include vaccines such as kennel Cough, Parainfluenza, and Leptospirosis
Most of the core vaccines are given for the first time at around 4-6 weeks and are repeated every 3 weeks. Rabies is given only once at the age of 4 months.
Some breeders provide the customer's vaccines to be given by them at home others object to them or some of them. I would avoid the form and ignore the other. The merits you bulldog puppy vaccines should be discussed and decided with the help of your vet not with a local store or breeder.
Puppy vaccines are usually boosted once again after 1 year and then every 3 years
11. MICROCHIP PREVENTION in Bulldog Puppies
I highly recommend microchipping your puppy, it's painless, inexpensive, and holds multiple benefits. It's proof of ownership and in a case of stolen or lost cases, it might save you agony, distress, time, and money.
To read more about bulldog microchips click

HERE.
12. SPAY & NEUTER PREVENTION in Bulldog and Fr. Bulldog Puppies
Sterilization recommendations and preferences can be different for females versa male bulldogs as well as the owner's unique preferences
FEMALE BULLDOG PREVENTIVE SPAY
Bulldog Pregnancies can be a challenge, it usually requires c-section under general anesthesia thus the inherent risks. There are also risks of unwanted pregnancies, ovarian and uterine tumors, prolapse, cystic ovaries, and breast tumors all of which can be avoided by spaying in a timely manner. Intact female is also at an increased risk of the infected uterus as they grow older, an expensive surgery and life-threatening condition that could have been entirely prevented.
Recommended age for spaying a bulldog puppy is not earlier than 6 months of age and no later than 2-3 years of age.
To read more about bulldog preventive spay click

HERE.
MALE BULLDOG PREVENTIVE NEUTER
By neutering a bulldog puppy, you can prevent unfortunate loss or hit by care when they chase a female in heat. You can also prevent juvenile sexual behavior, testicular tumors, sexually transmissible diseases, prolapse urethra, prostate problems, etc.
Recommended timing can vary, I would not do it before they are 8 months of age.
To learn more about bulldog and French bulldog neutering click

HERE
13. STEM CELL & CYROBANKING in Bulldog and Fr. Bulldog Puppies
Stem cell therapy is a cutting-edge new therapeutic modality that Dr. Kraemer is one of the early pioneers who adopted and offered same-day treatment with the option of cryobanking for future needs.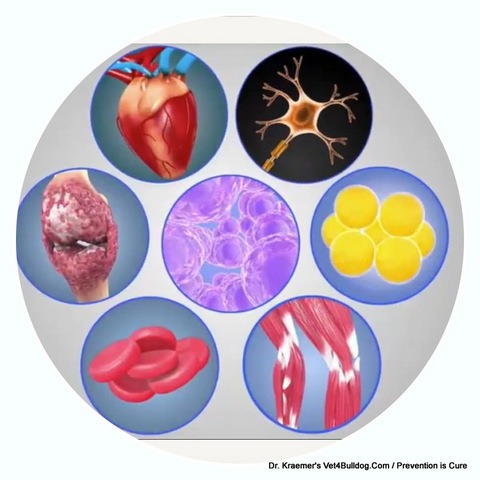 Stem cells are abundantly stored in adipose tissue (fat), in bulldog puppies they can be harvested during the elected procedure like spaying and neutering easily, safely, and at a minimal cost. They can be used for immediate treatment or banked for future needs. Those additional stored stem cells can be called upon and used at a low cost, safely, and usually awake without the need for anesthesia.
To learn more about bulldog stem cell therapy click

HERE
14. BULLDOG PUPPY DIET & NUTRITION:
A balanced quality diet and proper nutrition are essential to your bully puppy's development and well-being. You should use a diet designed for puppies; they have different needs during their growth phase. You don't need to buy expensive hyped diets, avoid gimmicks and marketing ploys. In general, I would recommend sticking to the brand names.
You can supplement the diet with therapeutic supplements
To learn more about bulldog puppy nutrition and diets click

HERE
PREVENTION & WELLNESS in Bulldogs and French Bulldogs :
Most of the bulldog puppy preventive care and maintenance recommendations remain the same as your bulldog puppy matures into adulthood.
For most bulldogs, preventive care should be done daily.
Here is a short list of the most common bulldog must-do preventives:
Bulldog Puppy EAR CLEANING & CARE:
Common Bulldog and French Bulldog Puppy Ear Disease:
Otitis Externa
Aural Ear Hematoma
Allergic Otitis
End Stage Stenotic Ear Canal
Infectious & Yeasty Otitis
Daily  ear and ear canal rinsing, flushing, cleaning, and wiping are recommended
Bulldog Puppy EAR & EAR CANAL PREVENTIVE:
We offer low-cost bully ear care bundles that will help keep your bully ears dry, clean, and free of infections.
Bulldog Puppy SKINFOLD CARE
Skinfold preventive should be implemented and maintained for all body parts that collect moisture  
Some of the common moist and damp areas are:
Nose Wrinkles
Facial Folds,
Tail Pocket
Digits, Toes & Interdigital Folds
Vaginal Folds & Vaginal Hoods
Bulldog Puppy SKINFOLD & WRINKLES PREVENTIVE:
Our Bully XL Antiseptic Skinfold Wipe is the most popular, and inexpensive skinfold moist dermatitis preventive. 
For low-cost skinfold antiseptic bundles click HERE
Bulldog Puppy JOINTS & BACK HEALTH
Here are some of the common bulldog and French bulldog puppy joint & back medical conditions:
Elbow Dysplasia
Hip Dysplasia
Medial patella luxation (MPL)
Bulldog Malformations: Spina Bifida, Hemivertebra
IVDD Disc Disease
For the best outcome start early and do it often
Bulldog Puppy JOINT BACK & BONE PREVENTIVE: 
Weight Management
Daily Play & Activity
Bully Therapeutic Supplements
Balanced Diet
We offer low-cost bully joint and back care bundles HERE
Bulldog  and French Bulldog Puppy DENTAL HYGIENE
Bulldog and French bulldog puppy's dental hygiene is critical for both their general health and longevity. 
Here are some of the common bulldog and French bulldog dental disease
Periodontitis
Subgingival Hair
Plaque and Tartar
Gingivitis
Bulldog Puppy DENTAL & ORAL PREVENTIVE: 
Avoid dental treats that can break the teeth
Brush gently
Use our bully dental wipes to remove  any hair that is stuck to the teeth & gums
Start our Bully Dental Hygiene Chews
Add our bully dental rinses to the water bowl to help reduce plaque and tartar
Bulldog Puppy SKINCARE, ITCH & ALLERGIES CONTROL
There is a wide range of bulldog skin conditions, including the common allergies, parasites, and keratinization conditions.
Here are some of the most common bulldog and French bulldog puppy skin conditions:
Flea Allergy
Atopic Allergy
Food Allergy
Skin Mites
Bulldog Puppy SKIN & COAT PREVENTIVE 
Flea preventives
Low Allergen & Hypoallergenic diets
Bully Topical Therapeutics (medicated shampoos, gels, and conditioners)
Bully Therapeutic Supplements
BULLDOG PUPPY STRESS & ANXIETY :
Bulldog puppies are prone to stress-induced diseases.
Anxiety and stress adversely affect the immune system which is already weak and immature in young puppies. 
Here is a short list of those conditions:
Separation anxiety
Inactivity & boredom
Parasitic infestations
Poor Diet & Nutrition
Boarding & Day Care
Bulldog Puppy STRESS & ANXIETY PREVENTIVE:
The Dr. Kraemer V4B Line of Bully  Therapeutics includes supplements that can reduce anxiety, and help calm and relax your bulldog puppy.
Sufficient Exercise & Play
Calming Environment & Toys
Bulldog Puppy Prevention and Wellness CHECKLIST
BULLDOG PUPPY @HOME PREVENTIVE CARE:
V4B Bulldog Puppy wrinkles Antiseptic & Antifungal SKINFOLDS TOPICALS:
V4B Bully Skinfolds Antiseptic Wipes (small & XL)
V4B Bully Skinfolds Antiseptic Lotion
V4B Bully Skinfolds Antiseptic Spray
V4B Bully Skinfolds Antiseptic Rinse
V4B BullyTear StainLess XL Wipes
V4B Bully Fish Oil EFA JOINT-IMMUNE-SKIN
V4B Bully  Comfort Plus Formula
V4B Bully StressLess & Calm Chews
V4B Bully Tear StainLess chews
V4B BULLDOG PUPPY SKINCARE PREVENTION & WELLNESS
V4B Bully Medicated Shampoos (Antiseptic, Yeasty, Oily bully)
V4B Bully Gels (Yeasty)
V4B Bully Conditioners (itchy, aloe oatmeal, hypoallergenic)
V4B Bully Antiseptic Wipes
V4B Bulldog Puppy Anti Itch & Scales SKIN CARE TOPICALS:
V4B BullyMedicated Shampoos (Itchy, Hypoallergenic, Aloe Oatmeal)
V4B Bully Conditioners Cream Rinse (Itchy, Hypoallergenic, Aloe Oatmeal)
V4B  Bulldog Puppy Supplements & Nutraceuticals bulldog SKIN CARE
V4B Bully Fish Oil EFA JOINT-IMMUNE-SKIN
V4B Bully Pre & Probiotics LOAD UP & KEEP UP
V4B Bully Pre Immune Support Plus
V4B Bully Tear StainLess chews
PUPPY PREVENTION BULLDOGS EARS
V4B Bully Aloe Drying Ear Rinse
V4B Bully Ear Cleansing Wipes
V4B Yeasty Bully Antiseptic Flush
V4B Bully Ear Cleansing Wipes
V4B Bulldog Puppy Supplements & Nutraceuticals EARS CARE
V4B Bully Fish Oil EFA JOINT-IMMUNE-SKIN
V4B Bully Pre Immune Support Plus
V4B Bully Pre & Probiotics LOAD UP & KEEP UP
BULLDOG PUPPY IMMUNE BOOST PREVENTIVE CARE
V4B Bulldog Puppy Supplements & Nutraceuticals IMMUNE BOOST: 
V4B Bully Pre Immune Anti-Oxidant Support Plus
V4B Bully Fish Oil EFA JOINT-IMMUNE-SKIN
V4B Bully Pre & Probiotics LOAD UP & KEEP UP
V4B Bully Pre StressLess & Calm chews
BULLDOG PUPPY JOINTS & BACK PREVENTION CARE & MAINTENANCE
V4B Bully Comfort & AcheLess Plus Formula
V4B Bully Fish Oil EFA JOINT-IMMUNE-SKIN
V4B Bully Total Joint Advanced Formula
BULLDOG PUPPY DIGESTION & ELIMINATION PREVENTION CARE
V4B Bully Pre & Probiotics LOAD UP & KEEP UP
V4B Bully  GentleMove & Anal Gland Care
V4B Bully Liver Cleanser & Detox
BULLDOG PUPPY DENTAL CARE PREVENTION & MAINTENANCE
V4B Bully PlqueLess water additive
For your bulldog puppy's ultimate results, you should combine therapeutic topicals with supplements.
Dr. Kraemer offers ECONOMIC BUNDLESat a reduced cost in all the Preventive & Maintenance categories. 
"An Ounce of PREVENTION Is Worth A Pound Of CURE"

*This guide was compiled courtesy of Dr. Kraemer, a "MUST READ" manual for any current or future bully owner.