Supplements Bulldogs Must Know Untold Secrets
Supplements bulldogs must know untold secrets are a short list of everything important you should know before buying non-prescription supplements.
Supplements Bulldog Must Know WARNINGS:
Before buying random supplements in your local pet store or online vendor you should be aware of the following:
Bulldogs Must Know OTC SUPPLEMENTS:
You should always question the validity of the product's medical and health claims as well as the advertised content and serving recommendations.
Supplements are sold over the counter (OTC) and thus are not FDA-regulated.
Bulldog Supplements Must Know LABELS & PURITY WARNING :
The advertised claims found on pet supplement labels should be questioned.
Bulldog and French Bulldog Supplements BIOAVAILABILITY WARNING :
Bioavailability is the fraction of the ingested dose that is absorbed by your bully digestive tract, thus you must question the supplement's ability to be fully processed, digested, absorbed, and utilized by your bulldog and French bulldog digestive tract.
Bulldog Supplements Must Know "HUMAN vs. PETS":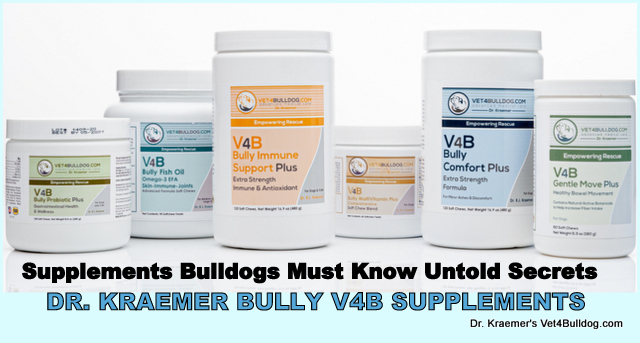 BULLDOG SUPPLEMENT BIOAVAILABILITY WARNING:
A supplement that is bioavailable to a human is not necessarily suitable for a pet, our digestive tract is not the same as your bulldog and French bulldog.
BULLDOG SUPPLEMENT OTC & FDA WARNING:
Both human supplements and bulldog supplements are OTC (over the counter) thus neither one is FDA regulated.
BULLDOG SUPPLEMENT DOSAGE WARNING:
Besides bioavailability, your supplement dosage and formulation are different than your bulldog, thus using your own supplement for your bully might have no benefit or be harmful to your pet.
Never forget the "DO NO HARM" rule,

MORE is not alawys BETTER
Supplements Untold Secrets CONTAMINANT WARNING :
QUALITY CONTROL: Since your bulldog and French bulldog supplements are OTC, quality control is unknown.
SAFETY: One would hope that your bully supplement production line, raw material, and packaging are inspected and protected from dangerous contaminants.
TIP: Look for cGMP and NASC seal and certification
Supplements Must Know Untold Secrets PRODUCT SAFETY:
Never forget the "DO NO HARM" rule,
PET SUPPLEMENT WARNING:
Always check the supplement label for safety data and the dosage of intended use
PET SUPPLEMENT CERTIFICATE WARNING:
Always check the supplement for an " FDA-approved" manufacturer's facility certificate.
BULLDOG SUPPLEMENT NASC MEMBERSHIP :
Always verify that your bulldog and French bulldog supplement manufacturer is a member of the National Animal Supplement Council (www.nasc.cc)
BULLDOG SUPPLEMENT CGMP CERTIFICATION :
Always verify that your bulldog and French bulldog supplements were made under strict cGMP Standards (current good manufacturing practice).
Bulldogs
Supplements Must Know / PREVENTION is CURE
Members of our bulldog community prefer prevention over RX
DR. KRAEMER'S V

4

B BULLDOG PRIVATE LABEL LINE
Dr. Kraemer's V4B bully line is an assortment of low-cost customized bully bundles and individual preventive therapeutics for the wellness of your bulldog and French bulldogs that includes:
SKINCARE
EAR CARE
SKINFOLD CARE
ORAL & DENTAL CARE
JOINT CARE
GASTRO CARE
IMMUNE CARE
URINARY CARE
COMFORT & ACHE LESS
HEMP MOBILITY & CALM
STRESS LESS & ANTI ANXITY
Dr. Kraemer's V4B is a wide range of preventive care and wellness bully therapeutics.
Dr. Kraemer's V4B Bulldog and French Bulldog labeled products are tailor-made for your bulldog, each with its own colored, printable, detailed instructions and product information "take-home" pet owner handout.
Dr. Kraemer's V
4

B Bulldog and French Bulldog Supplements are:

1. 100% MONY BACK GUARANTEE

30-day credit store.

2. % GOES TO BULLDOG RESCUE:

As with any paid services on this site, any time you purchase any of our V4B Bulldog products or supplements a "% must go to a Not4Profit Bulldog or French Bulldog Rescue"

3. SAFE & SECURE TRANSACTIONS:

Save and Secure Online Payments and  Verified Merchant Certification

4. MANUFACTURED IN THE USA
"An Ounce of PREVENTION is Worth a Pound of CURE"

*This guide was compiled courtesy of Dr. Kraemer, a "MUST READ" manual for any current or future bully owner.