Regurgitating French Bulldog: Megaesophagus In Bulldogs Are Secondary To Esophagitis Often Due To Chronic Gastric Reflux
Hello, I have a few questions and I have heard that Dr. Kraemer is the best when it comes to these things :). We adopted a 6 month old French Bulldog when he was just 8 weeks old. He is the love of our lives and we absolutely do not know how we ever lived before we had him. Recently, he started regurgitating his food (not vomiting definitely regurgitating). After he had done this for 4 days straight and doing research online, I was concerned that it may be Mega esophagus. We didn't want to take him to his normal local vet because, while he's a great vet, he isn't very familiar with this breed. So we took him to another. They did an xray and told us everything looks good (normal esophagus, normal nostrils, and no blockages etc…) but that he has an enlongated soft palate causing the issue. They told us that the problem can be fixed surgically but that is usually only in extreme cases and they refer out for the surgery. I was interested in the referral because I was familiar with the soft palate problems from researching the breed. I was interested in the surgery if it was in our budget because I want Yoda to have the best quality of life possible and not to have problems down the line due to this issue. I looked up the place they referred me to and they had horrible reviews so I started trying to find other vets that did the surgery. When I found Dr. Kraemer's glowing reviews, that he was very familiar with bulldog breeds, is affordable, AND does this surgery… it was just one of those "THIS IT THE ONE!" kind of moments! I am emailing because we live in Apple Valley which is pretty far away. I am hoping that we could get the surgery done at the same time we get Yoda neutered…if Dr. Kraemer determines that Yoda is a candidate for the surgery and if the surgery is something that we can afford. Yoda is doing well now that I have started wetting his food and letting it soak for 15 mins before feeding him, but I am still concerned because I read that this problem may worsen with age and I really want to have him in our lives as long as possible.
Dear Regurgitating Bulldog,
In English Bulldogs and French Bulldogs megaesophagus is not uncommon and as you indicated correctly will lead to regurgitation. Most megaesophagus in bulldogs are secondary to esophagitis often due to chronic gastric reflux common to the brachycephalic syndrome (elongated soft palate, stenotic nares, hypoplastic trachea, everted laryngeal saccules, etc). I recommend you start with a barium swallow, the contrast dye will help with the diagnosis including hiatal hernia. Do learn more please see read my articles and watch my educational videos on those topics
https://vet4bulldog.com/zen-bulldog-maintenance/breathing-problems-in-bulldogs/soft-palate-surgery-in-bulldogs-and-french-bulldog-puppies/
Sincerely Dr. Kraemer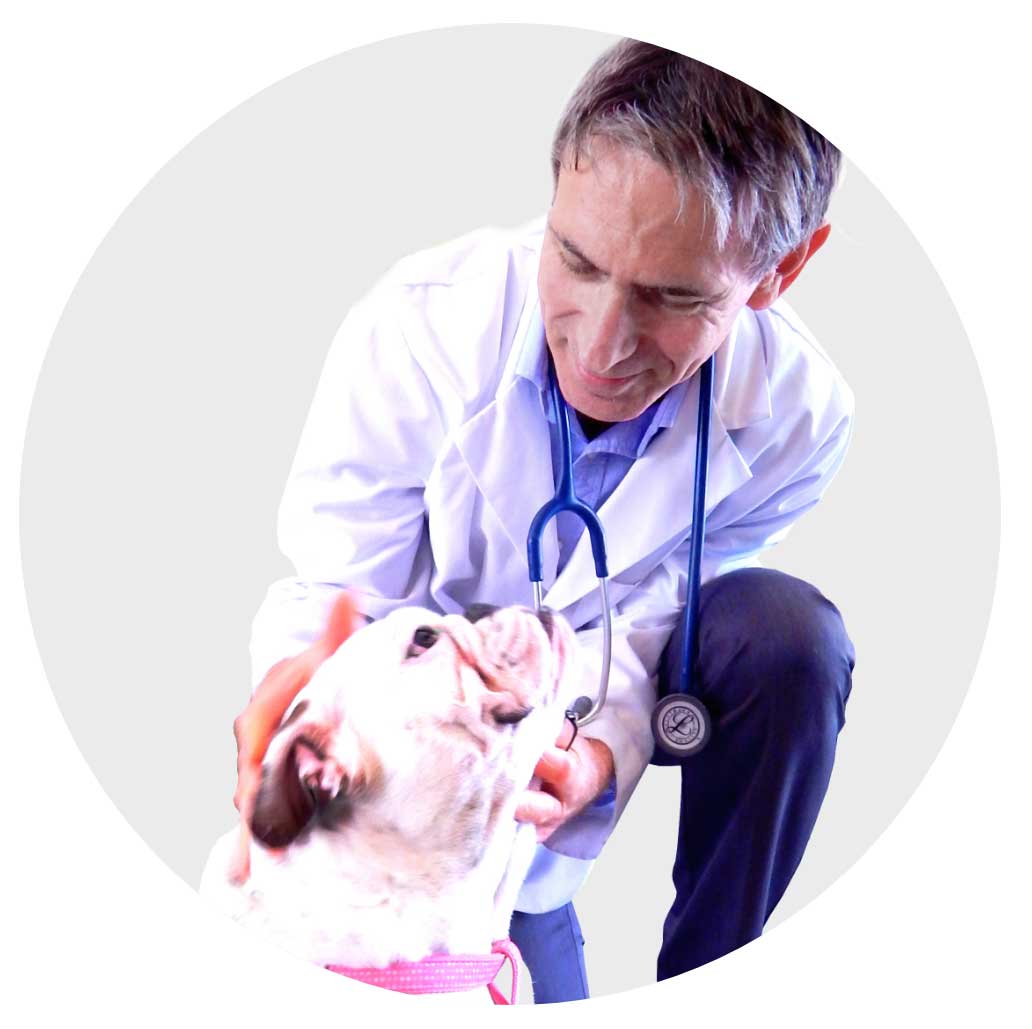 Dr. R.J. Kraemer Dr. Kraemer is a Tufts Veterinary School 1991 Graduate (Boston, MA). He is a member of the AVMA (American Veterinary Medical Association) and the SCVMA (Southern California Veterinary Medical Association) and has been practicing veterinary medicine and surgery in Orange County, California for over 20 years. Dr. Kraemer has a special interest in Bulldogs, French Bulldogs and other Brachycephalic breeds, and their unique medical and surgical needs, such as breathing and airways conditions, joint pain, ligament and tendon injuries, ear canal disease, skin and allergy problems, eyes and eyelid abnormalities, as well as other medical conditions related to the breed. Dr. Kraemer is also a leading provider for in-house same-day stem cell therapy and cryobanking for dogs and cat. Dr. Kraemer has a long-lasting relationship with bulldog rescue, he provides shelter, medical and surgical services to their bulldogs.