Urethral Prolapse in English Bulldog
I have an English Bulldog who is 15 months old. He has had a urethral prolapse that has occurred 3 times now. His vet did a procedure the first time with a catheter pushing it back in and stitching it. That lasted about 2 months and then it occurred again. This time he snipped the end off and fixed it up. Now 2 months later it's occurring again.
What would you recommend? We can not afford to perform a surgery every two months! Advice, please!
Thanks,
C.L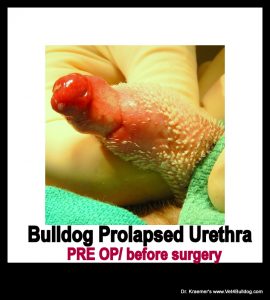 1 Answers
Dear C.L.
Prolapse Urethra in bulldog and French Bulldog is a common problem in the breed, and even more so in unneutered bulldogs. In other non-bulldog breed prolapse urethra is a rare condition thus most veterinarians might not be familiar with the proper medical and surgical approach.
First, I recommend that you neuter your boy bulldog. Second, you should ask for some basic diagnostics that includes urine, urine culture, blood and x-rays.
Last and most important, surgery should be done ONLY by someone experience with this condition.
If it's done the wrong way or multiple times it will be difficult to undo the damage due to limited space between the tip of the penis and you bulldog os penis, which is the bone at the distal part of the penis.
Final tip, if your bulldog urethral prolapsed tissue is minor and not bleeding you might be able to take the "wait and see" approach. On the other had if its bleeding, just ask for a tranquilizer and place a cold towel over the area till you can see an experienced surgeon.   For more info click here.
Sincerely
Dr. Kraemer Vet4bulldog