Acne in Bulldogs and French Bulldogs
Acne in Bulldogs and French Bulldogs Acne in Bulldogs and French Bulldogs is a skin condition common to the bulldog's chin and muzzle.
Bulldog Acene Other common names are bulldog chin acne and bulldog folliculitis.
Acne in Bulldogs and French Bulldogs APPEARANCE
Typical presentations of bulldog Acne are red bumps and the classic blackheads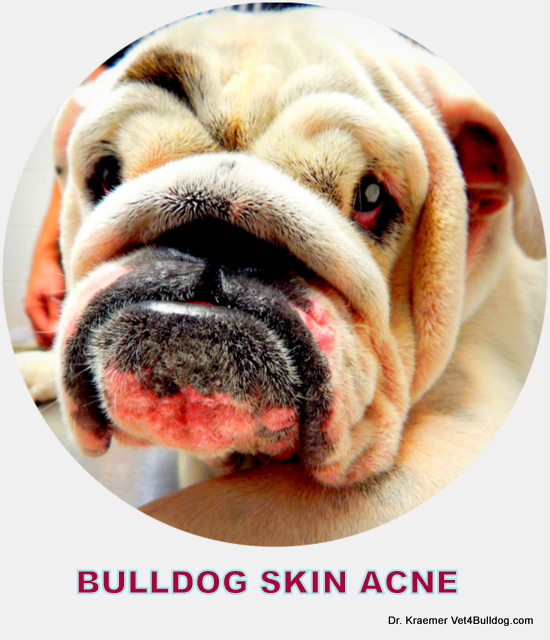 MILD BULLDOG SKIN ACNE:
The mild form presented similarly to kids during their adolescence.
MODERATE BULLDOG ACNE:
The most common manifestation of bulldog acne is a modest facial red raised bumpy inflamed lesion and blackheads.
SEVERE BULLDOG ACNE:
Untreated bulldog acne can progress to bleeding scabby oozy painful wounds with draining tracks, and pustules that can lead to a chronic disfigured scar-like dermis.
Infected Bulldog and French Bulldog Acne / "FURUNCULOSIS"
An infected hair follicle can progress to "bulldog infectious folliculitis" or in short "Furunculosis".
Mild bulldog acne can become infected due to itching, rubbing, and dirty water dish.
Skin Acne in Bulldogs and French Bulldogs CAUSE:
SKIN ACNE GENETIC LINK
Bulldog and French bulldog predisposition to acne are likely genetic.
SKIN ACENE DUE TO BULLDOG SKINFOLDS & WRINKLES: 
Bulldog skinfold's deep pockets lead to moisture and dampness thus adding to the breed predisposition to skin acne.
Bulldog acne is often treated like a bulldog and French bulldog skinfolds moist dermatitis.
SKIN ACNE DUE TO TRAUMA / FOLLICULITIS :
Trauma to the hair shaft and hair follicles can lead to a local reactive inflammatory response. The medical term for that inflamed injured hair follicle. is "bulldog folliculitis".
Bulldog Interdigital Cyst & Bulldog Skin Acne PATHOLOGY:
Both share a similar pathology, like bulldog acne, the bully's interdigital "cystic" blisters are often due to hair shaft trauma. The term "cyst" is an erroneous term; folliculitis or when infected "Furunculosis" is the correct one.
BULLDOG SKIN ACENE DUE TO DAMPNESS & MOISTURE 
A chronic wet, moist, damp condition of the skin will also contribute to bulldog acne.
Examples are
DROOLING: Dampness due to drooling
WATER DISH: Chin dipping into the water dish
MOIST FOOD: Moist food that sticks to the chin.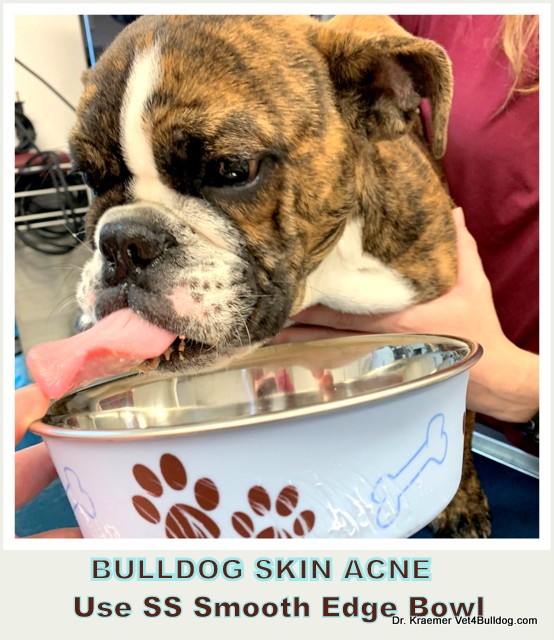 FRENCH BULLDOG SKIN ACNE DUE TO ALLERGIES:
Bulldog food allergy and or bulldog atopic environmental allergies can contribute to or trigger bulldog acne. A contact allergy to the plastic water dish or food bowl is also possible.
SKIN ACNE DUE TO BULLDOG DEMODEX:
Demodex mites can also contribute to or present bulldog acne.
BULLDOG ACEN DUE TO PUPPY STRANGLES:
Bulldog puppy strangles can lead to a severe case of bulldog acne. In contrast to bulldog acne, Bulldog Strangles ("bulldog puppy sterile granulomatous dermatitis") is usually severe and often includes enlarged mandibular lymph nodes, fever, loss of appetite, and facial swelling.
Acne in Bulldogs and French Bulldogs DIAGNOSIS
BULLDOG SKIN ACNE DR. EXAM:
Severe lesions should be checked, and the exam should include the surrounding structures, an oral exam, and palpation of the local Lymph nodes.
BULLDOG SKIN ACNE  SKIN SCRAPE:
A skin scrape will help rule out skin mites like bulldog demodex.
Bulldog and French Bulldog Skin Acne CYTOLOGY:
Cytology will help rule out infectious organisms and identify inflammatory cells.
BULLDOG SKIN ACNE CULTURE:
In rare cases of bulldog acne, a culture might be required. A culture sensitivity test would help diagnose the exact bacteria organism and its sensitivity to antibiotics.
Acne in Bulldogs and French Bulldogs PREVENTIVES
STAINLESS STEEL WATER & FOOD BOWLS: to help prevent allergic reactions and injuries from sharp edges
PROPER HYGIENE: proper dental care is required. Also, wash the bowls daily to remove debris and saliva
BULLDOG SKIN ACNE THERAPEUTIC TOPICALS:
ACNE IN BULLDOGS ANTISEPTIC & ANTIFUNGAL WIPES:
Dr. Kraemer's V4B Bully antiseptic XL skinfold wipes are the ideal therapeutic product for skin acne.
Daily wiping or your bulldog skin acne, especially after feeding and drinking is critical.
BULLDOG ACNE ANTISEPTIC SPRAY, RINSE, AND LOTION:
Dr. Kraemer's V4B Bully skinfold Antiseptic lotion, rinse, or spray can complement the above wipes.
ACNE IN BULLDOGS MEDICATED SHAMPOOS:
Dr. Kraemer's V4B Bully Medicated shampoos can be integrated with wipes, lotion, rinse, and spray.
DEGREASING: The V

4

B Oily Bully Decreasing Medicated Shampoo is ideal for folliculitis and demodex
ANTISEPTIC: The V

4

B Yeasty Bully Antiseptic Medicated Shampoo is ideal for bacteria and yeast infection
SOOTHING: The V

4

B Oatmeal Aloe Vera Bully Shampoo is soothing to bulldog acne
For most of our V4B Bully medicated shampoos a 10min contact before rinsing is recommended
BULLDOG SKIN ACNE THERAPEUTIC SUPPLEMENTS:
BULLDOG ACNE IMMUNE SUPPORT:
Boosting the immune system with a supplement like Dr. Kraemer's V4B Bully Immune support chews
BULLDOG ACNE ANTI-INFLAMMATORY & SKIN BARRIER REPAIR:
Dr. Kraemer's V4B  Bully Fish Oil Immune-Skin-Joint chews and the V4B Bully Pre & Probiotics can help repair the skin barrier, improve immunity, and reduce inflammation.
BULLDOG ACNE STRESS LESS & CALM:
Helps to reduce stress  and anxiety with natural supplements, like Dr. Kraemer's V4B Bully StressLess
Acne in Bulldogs and French Bulldogs TREATMENT:
BULLDOG ACNE THERAPEUTIC SUPPLEMENTS & TOPICALS:
NON-PRESCRIPTION
Mild-Moderate cases of bulldog acne are usually cosmetic and do not require prescription medication.
They are not painful and can be managed with the above nonprescription therapeutic topicals and supplements.
Most Bulldog Skin Acne can be treated with nonprescription therapeutic supplements & topicals.
PRESCRIPTION RX:
Though rarely required, your veterinarian might sometimes recommend adding prescription medication to the above nonprescription topicals and supplements therapeutics. Standard prescribed RX is antibacterial and anti-inflammatory (Steroid) ointments.
Other times depending on the underlining condition a short-term systemic medication will be added to help control infection, inflammation, and mites.
Acne in Bulldogs and French Bulldogs WARNINGS:
Bulldog Skin Acne warning #1 RX SIDE EFFECTS:
Remember, prescription medication carries an inherent risk including various adverse effects as well as contributing to multidrug resistance and the raise of harming and difficult-to-treat microorganisms.
Bulldog Skin Acne warning #2 CHRONIC CASES:
Prescription medications are ineffective for controlling chronic acne and should only be used for acute cases or an acute flare.
Bulldog and French Bulldog Skin Acne warning #3 TRAUMA
TRAUMA BY YOU:
Be gentle when manually managing acne This will prevent further trauma to the skin, and damage to the hair shaft and follicle.
Don't press or pop your bulldog acne lesion, you will be contributing to the trauma and increase the chances of an infection.
TRAUMA BY TOYS & BOWLS:
Remove toys and bowls with sharp edges.
TRAUMA BY ITCHING:
You must control the underlining cause such as itching allergies (read Dr. Kraemer's articles that cover allergies and itch control)
"An Ounce Of PREVENTION Is Worth A Pound Of CURE"

*This guide was compiled courtesy of Dr. Kraemer, a "must-read" manual for any current or future bully owner