Itching Allergy in Bulldogs and French Bulldogs
Itching Allergy in Bulldogs and French Bulldogs is possibly the most common medical condition presented at my bulldog practice.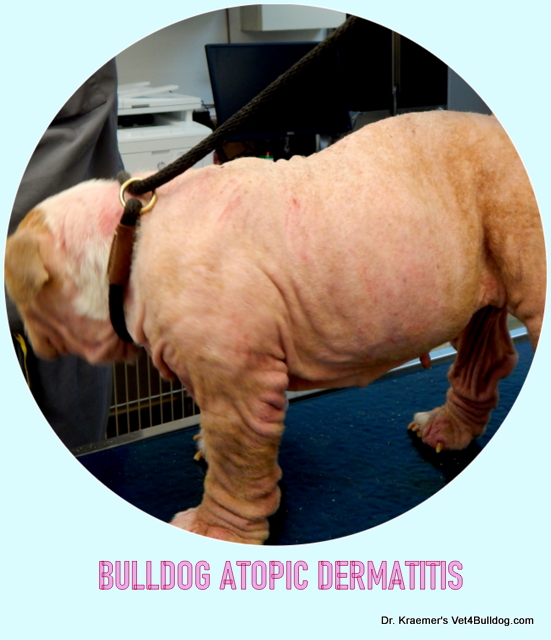 Itching Allergies in Bulldogs and French Bulldogs MOST COMMON
There are a few types of  allergies:
ATOPIC ENVIRONMENTAL ITCH DERMATITIS
FOOD ITCH DERMATITIS
FLEA ITCH ALLERGY
CONTACT ITCH ALLERGY
Atopic environmental itch dermatitis is the most common allergy I see in Bulldogs and French bulldogs while bulldog contact allergy is rare and the least common
Itching Allergy in Bulldogs and French Bulldogs CAUSE
The cause for itching is not always the same, each allergy type is likely to have a different trigger.
Itching Bulldog / ATOPIC ENVIRONMENTAL ALLERGY
Genetic: Bulldog Atopic Itch allergy has a genetic predisposition and hereditary underlining.
Common Allergen: tree, grass, weed, dust mites, mold, etc.
Itching Bulldog / FOOD ALLERGY
 Bulldog Food Allergy is mostly induced by proteins usually from an animal source
Common Allergenb:
Beef
Chicken &, Turkey
Fish
Egg
Itching Bulldog FLEA ALLERGY:
FLEA BITE: Itching is triggered by a flea bite
Allergic dogs are sensitive to the allergen injected with flea saliva during the flea blood meal.
Itching Bulldog CONTACT ALLERGY:
DIRECT CONTACT: Allergen that comes in direct contact with your pet
Here is a short list of some of the most common ones
Pesticides & Insecticides ( flea collars & topical flea products)
Grass & Lawn ( fertilizers & herbicides)
Topical medication & Shampoos
Bed & Blanket material
Itch Allergy in Bulldog and French Bulldog PRESENTATION
Self Trauma: itching, biting, chewing, licking, excessive grooming
Inflammation: redness, raw, erythema, bumps
Odor & Discoloration
Dander & Flakes: Usually dry flaky skin
Itching Allergy in Bulldogs and French Bulldogs DISTRIBUTION
Various bully allergies have different typical distributions and appearance
BULLDOG FLEA ITCH ALLERGY
Itching, hair loss, and red bumps mostly at the distal back and tail base
BULLDOG CONTACT ITCHY ALLERGY
Itching, erythema (redness), and hair loss at the contact site
Examples are
Flea collar NECK EREA
Grass pesticides BELLY AREA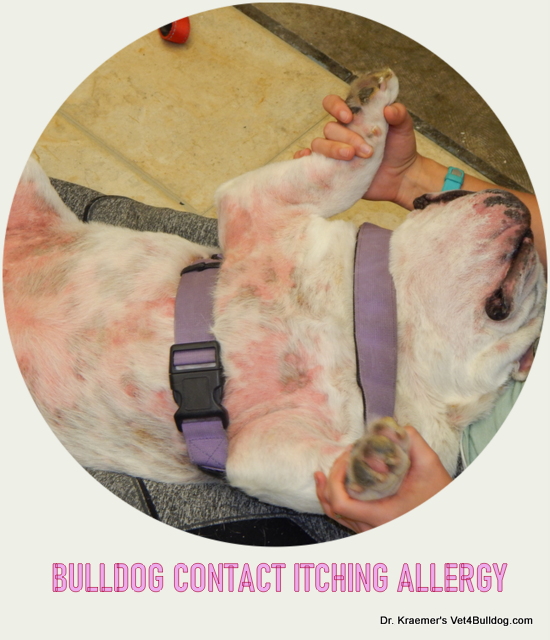 Itchy Bulldog ENVIRONMENTAL ALLERGY
Itching and hair loss mostly at the
Paws
Ear base
Belly
Elbows
Hind legs
Itch Bulldog FOOD ALLERGY
Similar to atopic allergic dermatitis.
Itch Allergy in Bulldog and French Bulldog MYTH & FACT
Allergy Myth#1: WARTERY RED EYES & SNEEZING
Most of you will associate allergy with the inhalation of allergens (hay fever).
In fact, in contrast to us, bulldogs' airborne allergens do not enter via the airways but rather make their entrance cutaneously via the skin surface.
Normal: Normal healthy allergy-free, itch-free bulldogs have a skin barrier that is impervious to allergens.
Allergic: allergic bulldogs suffer from a skin barrier (epidermis) breakdown, and thus are vulnerable to all the common atopic allergy manifestations.
Bulldogs and French bulldog allergy hallmark is ITCHING.

Humen allergies hallmark is red eyes, sneezing and snuffling. 
Nevertheless, some bulldog allergies such as allergic bronchitis and allergic rhinitis will exhibit upper or lower airway problems (cough, nasal d/c, sneezing)
Allergy Myth #2: OUTDOORS vs. INDOORS ALLERGEN MYTH
Many bulldog owners assume that if they restrict their bully to the indoors, they will be immune from offensive allergens and thus immune from allergies. Unfortunately, it is not so.
First, there are many indoor allergens such as dust mites and mold. In addition, outdoor allergens are carried by air entering your house and per square foot are at much higher concentrations due to poor ventilation, reduced circulation, and airflow.
Itch Allergy in Bulldog and French Bulldog AGE & SEASON
CONTACT ALLERGY
Age: All ages
Seasonal: This can very much depend on the source. For example, flea collar allergy is more like to happen during the flea season when owners tend to apply them.
FLEA ALLERGY
Age: All-Ages
Season:  Is usually during the warmer months
ENVIRONMENTAL ALLERGY
Age:1-3 years old are the most affected
Season: Usually seasonal
FOOD ALLERGY
Age: The bulldog puppy and the bulldog adult over 5 are the ones most affected by food allergy
Season: Is not seasonal
Year around allergy is more consistent with food allergy
Itch Allergy in Bulldog and French Bulldog DIAGNOSIS
ENVIRONMENTAL ATOPIC ALLERGY
By Elimination: There is no good defensive test known for bulldog atopic allergies. the diagnosis is based on an elimination process, such as age, skin itch and hair loss distribution, season, and itch response to steroid treatment.
FOOD ALLERGY
Trial & Challenge: Food trial on a prescription hypoallergenic elimination diet for 8 weeks and a challenge with the previously suspected food allergy diet to confirm.
FLEA ALLERGY:
Season & Fleas: The presence of fleas, flea dirt, and flea season
Distribution: Hair lost dorsal-distal lumber and tail base location,
CONTACT ALLERGY:
Reaction: Focal location (contact site)
Allergens: the presence of suspect allergen (flea collar, recently spared grass, new bed, etc.)
Other Diagnostic Tests For Bulldog and French Bulldog Allergies
SKIN SCRAPE: helps to r/o skin mites such as Demodex and sarcoptic mange
CYTOLOGY: helps to r/o the presence of secondary bacteria and/or yeast infection
DTM: fungal culture to r/o ringworm (dermatophytes)
CULTURE: helps to identify types of bacteria (gram neg rods, vs gram neg cocci)
BIOPSY: helps to r/o autoimmune disease, skin cancer, etc.
Itching Allergy in Bulldogs and French Bulldogs TREATMENT:
PREVENTION: Bulldog environmental allergy often requires Lifelong prevention and management
THERAPEUTIC TOPICALS FOR BULLDOGS ALLERGIES
BATH & WATER:
Water is soothing and helps to wash off allergens, dander, and fleas
Remember, in pets' environmental allergens  mostly entered via the skin surface
MEDICATED SHAMPOOS & CONDITIONERS
Bully topical medicated therapeutics (i.e. medicated shampoos, rinses, wipes, gels, cream rinses, and conditioners), are critical for short-term and long-term allergy and itch control.
Bully medicated topicals do not require a prescription, they are inexpensive, easy to use, and can be implemented by you at the convenience of your home.
V4B BULLY MOISTURIZERS & HYDRATION
V4B BULLY ANTI DANDER & FLAKE RELIEF
V4B BULLY ITCH RELIEF
V4B BULLY HYPOALLERGENIC
V4B BULLY ALOE OATMEAL SOOTHING
SAVINGS: See Dr. Kraemer's Bully Economic ITCH RELIEF Medicated Topical Bundles
MEDICATED ANTIBACTERIAL & ANTI YEAST (ANTISEPTIC)
Many allergic itchy dermatitis bulldogs also present with a secondary bacterial and yeast infection. Those microorganisms reside on the skin as part of the normal microflora and cause no harm but can become opportunistic pathogens when the skin barrier is damaged.
V4B BULLY YEASTY BULLY SHAMPOO
V4B BULLY YEASTY ANTISEPTIC WATERLESS GEL
V4B BULLY ANTISEPTIC XS SHAMPOO
V4B BULLY  OILY BULLY ANTISEPTIC SHAMPOO
SAVINGS: See Dr. Kraemer's Bully Economic Medicated Antiseptic Topical Bundles
THERAPEUTIC SUPPLEMENTS FOR BULLDOGS ALLERGIES
Allergic itchy bulldog skin becomes inflamed and the skin barrier is damaged and porous. Some supplements can help restore the barrier, boost the immune system, and reduce inflammation.
V4B BULLY Fish Oil EFA SKIN-JOINT-IMMUNE
V4B BULLY PRE & PROBIOTICS
V4B BULLY IMMUNE SUPPORT
SAVINGS: See Dr. Kraemer's Bully Economic SKINCARE therapeutic Supplements Bundles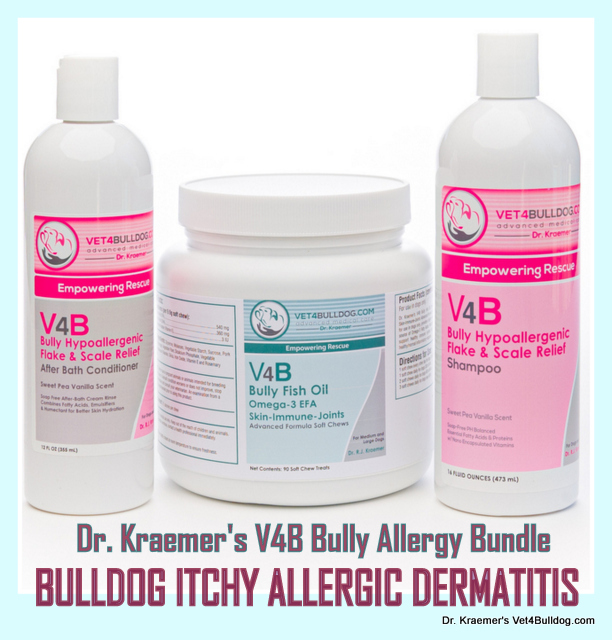 ALLERGEN IMMUNOTHERAPY ITCH CONTROL
life-long hypersensitization treatment (if they work they are usually given for life every ~2 weeks at home by you)
NON-STEROIDAL ITCH CONTROL FOR ALLERGIES
Cyclosporine is orally usually given twice weekly or every other day, it can help control itch as a replacement for steroids but it also has some side effects including vomiting.
Apoquel: is oral, it can help control itch but only for about 10 hours, and at twice a day over a long time, it can cause immune suppression. It is only labeled for adults only
Cytopoint Injections:  can relieve itch for 6-8 weeks, have minimal side effects, and can be given to puppies.
ANTIHISTAMINES ITCH CONTROL 
First-generation antihistamines like Benadryl that cross the blood-brain barrier can help with sedation and thus can be given before bedtime. They are safe and OTC
Second and Third generation antihistamines might be more effective for itch control in combination with other RX. As a single treatment, they are not very effective. An example is Hydroxyzine.
STEM CELL THERAPY ITCH CONTROL:
Can help in some nonresponsive cases, with no side effects, and can help prevent and treat other medical problems
FLEA PREVENTION FOR BULLDOGS ALLERGIES:
Avoiding flea allergy, Fleas are climate-sensitive thus geography, season, and temperature will affect them. Also, the bulk of the flea cycle is not on your pet, only the adult stage lives and breeds on your bulldog. Thus adherence to flea prevention by the pet community will dramatically affect the likelihood of fleas and flea allergies. year-round flea control is a must for allergic bulldogs.
Some flea control medications are also effective against bulldog demodex mites (Bravecto) and Sarcoptic Mange mites (Revolution)
ANTIBIOTICS FOR BULLDOG ITCHING ALLERGIES:
Antibiotics can be used if secondary bacteria are suspected and confirmed by cytology. The most common skin bacteria is a gram-positive Staphylococcal.
WARNING: Overuse of antibiotics can lead to multidrug resistance bacteria (MRSP)
ANTI-YEAST RX (Malassezia) FOR BULLDOG ALLERGIES
If a secondary yeast infection is presented antifungal medical is recommended
Repairing Skin Barrier for Bulldog Allergies
THERAPEUTIC TOPICALS & SUPPLEMENTS:
Every itchy and allergic skin treatment should include therapeutic topicals
Non Prescription Theraputic Topicals & Supplements are the saftest, unexpenssive and often the most effective
STEROIDS (CORTISONE) 
Often used to help control itching and inflammation
Allergy in Bulldog and French Bulldog STEROIDS/CORTISONE
ENVIRONMENT ALLERGY 
Bulldogs and French bulldogs itching due to atopic dermatitis are very responsive to cortisone (prednisone, Depo-Medrol, etc)
FOOD ALLERGY
Bulldog itching due to food allergy might show no improvement or only mixed itch relief.
It is much better o eliminate the dietary allergen than treat bulldog food allergy with steroids.
FLEA ALLERGY 
Steroids provide good relief to flea allergy but it is best to prevent the problem by using flea preventives than resorting to cortisone medication
CONTACT ALLERY 
Steroids provide good relief to most contact allergy itching but it is best to remove or eliminate the offensive allergen (flea collar as an example)
Itching Allergies in Bulldogs and French Bulldogs STEROID SIDE EFFECTS
Steroids are widely used for pet allergies they are inexpensive and usually effective as both an anti-inflammatory and itch control. Nevertheless, they can be harmful.
STEROID RISKS: The higher the dosage and the longer the use the higher the risk
Steroids like prednisone and Depo-Medrol can help relieve and manage allergic itch. It is preferred to use them for flare-up acute short-term allergies. Long-term management with steroids increases the chances of adverse side effects
Here is a short list of some of the most common steroid side effects in bulldogs:
IMMUNE SUPPRSENT: will increase the chance for secondary bacteria, and yeast infection as well as Demodex mites. Also, many systemic problems include UTI and intestinal dysbiosis.
PU/PD: excessive drinking thus uncontrolled urination and accidental indoor incontinence.
OBESITY: due to an increase in food intake
OTHER: many other serious medical conditions such as diabetes, Cushing's, liver steroid hepatopathy, orthopedic problems, etc.
Itching Allergy in Bulldogs and French Bulldogs IMMEDIATE VS DELAYED
The most common bulldog allergy is the delayed type of hypersensitivity

Immediate hypersensitivity is rare manifested by instant life-threatening anaphylaxis shock
BULLDOG ALLERGY DELAYED HYPERSENSITIVITY
The most common bulldog allergies are a delayed type of hypersensitivity and are milder in appearance (itch, swollen face, and eyelid, hive, redness)
Delayed Allergy TIMING
Delayed hypersensitivity bulldog allergy is often mild to moderate and it can start hours after the encounter.
Delayed Allergy PRESENTATION
Mild to moderate, common manifestations are itch, swollen face, and eyelid, hive, redness
Delayed Allergy In Bulldog and French Bulldog TREATMENT
Mild to moderate cases can be treated with a bath and topical bully-medicated shampoos, conditioners, sprays, wipes, and gels.
More severe cases might require prescription medication such as steroids (prednisone), antihistamines, and other itch-control drugs.
Bulldog allergy HYPERSENSITIVITY (ANAPHYLAXIS)
Hypersensitivity TIMING
Instant and dramatic.
Hypersensitivity PRESENTATION
Constricted airways, can't breathe, cyanotic and circulatory collapse (anaphylaxis), the ramification can be dire thus emergency treatment is required preferably by a trained veterinary team
Bulldog Hypersensitivity TREATMENT:
Epinephrine
Oxygen
IV fluid
Monitoring.
Itching Allergy in Bulldogs and French Bulldogs TIPS & WARNINGS
Bulldog Allergy Tip #1 INFECTION:
Secondary bacteria and yeast infections are common to ongoing uncontrolled allergies, they will exacerbate the itch and must be managed with topical antiseptic and anti-yeast medicated shampoos and gels Like Dr. Kraemer's Yeasty Bully Medicated products.
Bulldog Allergy Tip #2 THERAPEUTIC TOPICALS & SUPPLEMENTS:
Should be implemented for any bulldog suffering from skin disease, allergy, and itching
Therapeutic bully topicals & supplements are step one for all itching, skin allergy bulldogs
French Bulldog Allergy Tip #3 AIR PURIFIER & VENTILATION:
Proper ventilation and purification can help reduce indoor allergens.
Bulldog  Allergy Tip #4 BUSTER COLLAR:
Keep an E-collar handy and place it on your pet till the itch is controlled to avoid self-trauma and additional injuries such as ear hematoma, hot spots, corneal ulcer, etc.
ITCHING ALLERGIES WARNINGS
Bulldog Allergy Warning #1 STEROID MONITOR:
Routine safety screens for pets using prednisone or other steroids should include blood tests and urine.
French Bulldog Allergy Warning #2 STEROID TAPER:
Due to cortisone side effects your vet and you should strategize tapering off the steroids itch control dosage to the minimum necessary.
Bulldog Allergy Warning #3 CORTISONE & DEMODEX:
Subclinical demodicosis can erupt due to a steroid-induced immunosuppression
French Bulldog Allergy Warning #4 OTHER ITCHING:
Remember, other skin conditions can cause itching, examples are pemphigus (autoimmune), ringworm (dermatophyte), sarcoptic mange, and demodex. Those conditions should be ruled out with an appropriate diagnosis
Bulldog Allergy Warning #5 MRSP:
Multidrug-resistant bacteria are on the rise due to inappropriate usage of antibiotics and steroids. antibacterial drugs should be used based on cytology and response to treatment, lack of response requires a culture
AN OUNCE OF PREVENTION IS WORTH A POUND OF CURE

*This guide was compiled courtesy of Dr. Kraemer, a "must-read" manual for any current or future bully owner