Bulldogs and French Bulldogs Tail Pocket Infected Dermatitis
Bulldogs and French Bulldogs Tail Pocket Skin Fold Dermatitis is very common to the breed and presents in many forms of severity.
The infected tail pocket is caused by a malformation of the bulldog vertebral tail bones.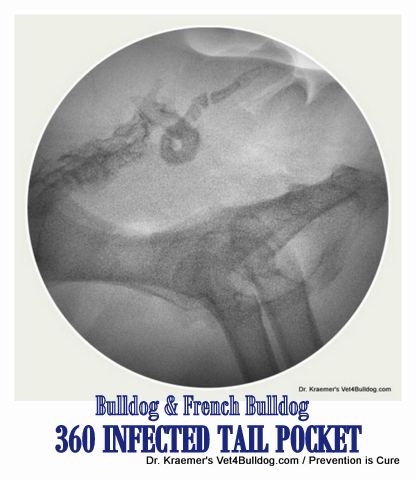 The twisted, ingrown, corkscrew, bully tail can present in many varieties, shapes, and forms, each with a different degree of severity, and a different degree of discomfort and pain intensity.
---
Bulldog Tail Pocket Infected Dermatitis 5 X MUST KNOW
The tail pocket is due to vertebral malformation of the tail bones
The curls inward in various degrees even a 360 creating deep hidden folds
The pocket traps moisture leading to inflammation and infection, swelling, itch, and severe PAIN
Treatment includes supplements and antiseptic  therapeutics (wipes, rinse, spray, lotion)
Prevention includes Dr. Kraemer's Tail Pocket Care Bundles 
Members of our bulldog community prefer prevention over RX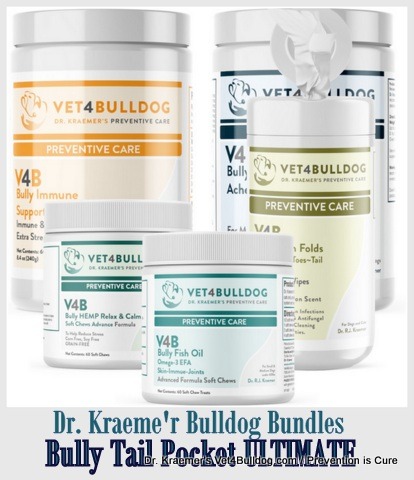 In contrast to most other breeds, your bulldog tail bones will often turn around backward and on occasion twist like a pretzel, dragging with it the skin and hair. In many of those cases, the tail is deeply embedded and tucked in, with the folded parts hidden from the owner's eyes.
Prventive and maintenence care is critical.

Most bulldog tails fold dermatitis patients depend on topical antiseptic care care with a bully skinbfold therapeutic.
TAIL POCKET DERMATITIS VERTEBRAL MALFORMATION
Other bulldog verterbral malformations are:
The more severe bulldog skinfold dermatitis cases require surgical amputation of the malformed tail bones.
Bulldogs and French Bulldogs Tail Pocket Infection / CAUSE:
FRICTION: Frictional trauma, bone on skin
MOISTURE: Excessive moisture and dumbness
INFLAMMATION: Severe Inflammation and swell
ITCH & PAIN: constant discomfort 
REDNESS & ULCERATION
DISCOLORATION AND HAIR LOSS 
SMELL & DISCHARGE: purulent discharge
DRAINING TRACT:
YEAST & BACTERIA: Yeast & Bacteria Overgrowth/Infections (

Pyoderma

)
SELECTIVE BREEDING
Bulldog skinfold diseases such as tailfold moist dermatitis are compounded by selective breeding.
Bulldogs and French Bulldogs Skin Fold Dermatitis LOCATIONS: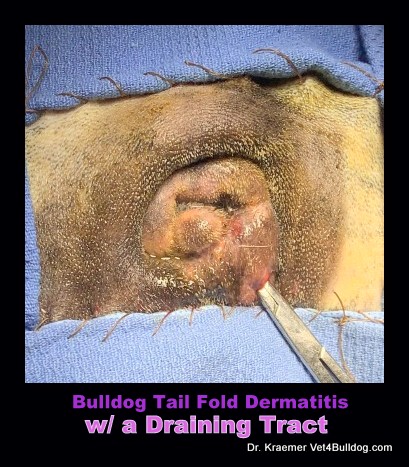 BULLDOG NOSE SKINFOLD INFECTED DERMATITIS:
Like the tail, the apposed nasal skin and friction lead to excessive moisture that is compounded by tears and mucus from the eye.
Itching of the area can lead to injury to the eye and acute corneal ulcers.
BULLDOG VAGINAL SKINFOLD DERMATITIS:
Like the tail, the apposed skin and friction lead to excessive moisture compounded by urine and other vaginal secretions that can also ascend to the urinary tract leading to chronic bulldog UTI
Bully tail fold dermatitis can lead to urinary tract infection
BULLDOG TOES & PAWS SKINFOLD DERMATITIS:
Like the tail, the apposed skin and friction lead to excessive moisture that is compounded by licking,
Bulldog paw allergic dermatitis
Bulldog Pododermatitis
BULLDOG CHIN SKINFOLD ACNE DERMATITIS:
"Bulldog Acne" is often compounded by constant wetness and moisture due to the breed drooling and water bowl chin dripping.
BULLDOG SKINFOLD INFECTED DERMATITIS OTHER  LOCATIONS:
Neck folds
Face folds
Aarmpit folds
Inguinal area folds
As well as all other potential bulldog's moist skinfold dermatitis "hot spots".
Bulldogs Tail Pocket Skin Fold Dermatitis DIAGNOSIS:
The degree of the tail problem and the therapeutic urgency might not be obvious to the new bulldog owner.
BULLDOG TAIL FOLD INFECTION DIGITAL EXAM DIAGNOSIS:
It is critical that a digital exam (best done with gloves and a wipe) is done since most of the inflamed, ulcerative, and infected areas are deeply embedded, and not necessarily in plain sight.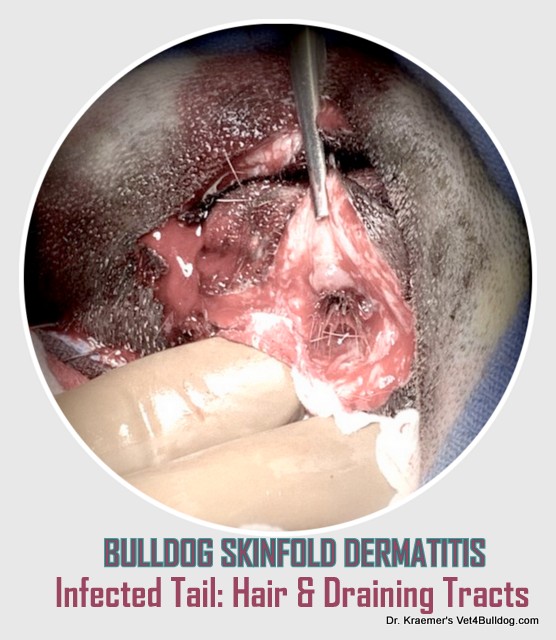 Bulldogs Infected Tail Pocket PREVENTIVE CARE:
Early preventive care, aware owner, and diligent lifelong wiping and care are critical
Bulldog Antiseptic Wipes:
For the best outcome, your bulldog tail folds should be maintained with antiseptic wipes
Wiping once daily is usually adequate but more severe cases might require twice daily
DR. KRAEMER'S V

4

B BULLY SKINFOLD ANTISEPTIC XL WIPES:
EFFECTIVE
INEXPENSIVE
EASY TO IMPLEMENT
CONVENIENT
Bulldogs and French Bulldogs Tail Pocket TREATMENT:
In most cases, nonprescription antiseptic topicals are enough, but more severe cases might require periodic prescription medication and severe painful cases should consider a surgical option
TOPICAL ANTISEPTIC BULLDOG WIPES:
Dr. Kraemer's daily V4B Bully Antiseptic  XL Antiseptic Wipes are best for most daily bully tail maintenance.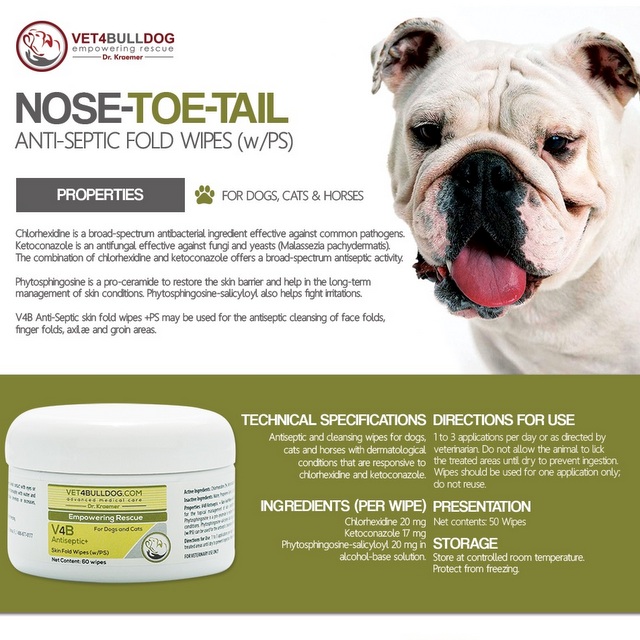 BULLDOG TAIL INFECTION SUPPLEMENTS:
COMFORT & PAINLESS:
 IMMUNE BOOSTING:
CALM & RELAX:
V4B Bully StressLess & Calm chews
V4B Bully Hemp Relax & Calm chews
BULLDOG TAIL INFECTION TOPICAL RX:
For the more severe bully skinfold infection cases, prescription medication should be discussed with your veterinarian including topical anti-inflammatory-antiseptic powder, or ointment.
BULLDOG TAIL INFECTION SYSTEMIC RX:
In an acute case, pain medication, anti-inflammatory itch control, antibiotics, and antifungals might be required.
BULLDOG-INFECTED TAIL FOLD DISEASE SURGERY:
In the event that therapeutic preventive measures and medical treatment are inadequate, then tail removal should be discussed.
Bulldog Tail SURGERY WARNING:
Bulldog and French bulldog tail amputation is NOTHING LIKE other dogs' tail shortening
Bulldog Tail SURGON WARNING: 
Ensure that the surgeon has done bulldog tail amputation many times and has a high success rate.
The bulldog corkscrew tail bones are above the descending colon, a cut to deep can severe the intestinal wall.
Bulldogs and French Bulldogs Infected Tail Pocket SURGICAL MERITS:
PAINLESS: Permanently eliminates the pain, itch, and smell.
CAREFREE: Best for bulldog owners who can not provide daily care.
STRESSLESS: Best for reluctant, and at times aggressive bulldogs who refuse the daily wiping.
QUALITY OF LIFE : for bulldogs suffering from chronic, painful, ulcerative, bleeding, difficult to manage tails, and/or those with draining tracts, surgery is your best quality of life method of choice 

LOOKS:cosmetically, the end result is great. I never had a bulldog owner complain, and your bulldog will love you for that. You can take that to the bank.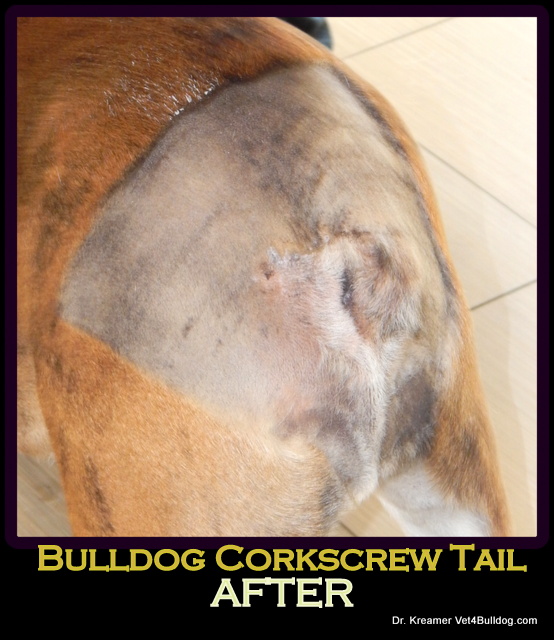 Dr. Kraemer's V

4

B Bulldogs Tail Pocket TIPS & WARNINGS:
Bulldogs Tail Pocket ANTISEPTIC WIPE TIP:
The tail is often tight and deep, thus the most critical parts are often missed by the hesitant owner.
Make sure to go all the way under, deep in the tail pocket, and tail folds. Most of the "action" (infections) are in those hidden parts.
Infected Tail Pocket in Bulldogs PERINEAL IRRITATION TIP:
Other reasons for your bulldog to be irritated in his/her backend are:
BULLDOG ANAL GLAND: Anal gland impaction & Infection can be very irritating to the perineal area
BULLDOG INTESTINAL WORMS: Whipworms are known to irritate the perineal area
BULLDOG ALLERGY: Allergies like bulldog flea allergy
VAGINAL SKINFOLD DERMATITIS: In female bulldogs "Bully vaginal skin folds moist dermatitis"
Tail Infection in Bulldogs ANTISEPTIC BULLY TOPCIALS TIP:
In addition to our extra large pullout bully antiseptic wipe, Dr. Kraemer also offers smaller antiseptic wipes, bully skin fold antiseptic spray, lotions, and skin fold rinses which many of you find helpful.
The V4B Antiseptic Bully Skin Fold XL Wipes are the most popular and in most cases the ideal topical therapeutic for bulldog skinfold dermatitis.
V

4

B Bully Skinfold XL Wipes ANTISEPTIC:
Extra Large bully wipes, will cover your entire hand/fingers protecting you from the "stinky stuff".
V

4

B Bully Skinfold XL Wipes PULLOUT:
Extra Large antiseptic bully wipes are pullout style, thus easy and convenient.
V

4

B Bully Skinfold XL Wipes INEXPENSIVE:
Extra Large antiseptic bully wipes are inexpensive, each jar contains 60 XL wipes.
V

4

B Bully Skinfold XL Wipes EASY:
The XL wipes are large, durable surfaces that can do the job well, even in a very folded, protected tail.
INFECTED BULLDOG TAIL POCKET WARNINGS:
Tail Infection in Bulldogs VAGINAL WIPE WARNING:
Do not use a wipe to clean the vaginal area after using it on the tail.
Bulldogs Tail  BUTT CLEANING WARNING:
Don't mistake the "butthole" for the bully tail pocket and folds.  Nevertheless, please clean that area in addition to the tail pocket, fecal material and anal gland secretions can end up in the folds and pocket.
Tail Folds Bulldogs SURGERY WARNING:
For bulldog tail removal surgery, I recommend seeking a veterinarian experienced with the procedure.
Tail Infection in Bulldogs PAIN WARNING:
Severe bully skin fold dermatitis cases awaiting surgery should be on pain management. Bulldog tailfold dermatitis is a painful condition.
Tail Infection in Bulldogs STEROIDS WARNING:
Treating and preventing bulldog tailfold dermatitis usually requires the proper use of daily wipes.
Systemic medication should be used only for rare acute events, and only short-term. They are harmful to your dog and ineffective for long-term management.
I don't recommend managing bully tail fold disease with long-term systemic steroids and/or longterm systemic antibiotics.
Bulldog Tail and ALLERGIES WARNING:
Bulldog allergies, such as bully flea allergy, bulldog atopic dermatitis, and bulldog food allergies often compound the tailfold problems, therefore, make sure that your bulldog is effectively treated for those.
An Ounce Of PREVENTION Is Worth A Pound Of CURE

*This guide was compiled courtesy of Dr. Kraemer, a "must-read" manual for any current or future bully owner