hi Doctor
My bulldog puppy has bulldog wrinkles infection in many areas all year long
I live in the middle east near the Persian gulf, it's usually very hot and very humid. The Dr. gave me antibiotics and some bulldog wrinkle cream but it's not helping him. I'm not sure how the cleaning of his nose ropes work, and we don't have a bulldog Dr. here where we live.
His bulldog wrinkles infection is spreading. It started as a face wrinkle infection and then spread to his nose ropes and now the infection at his nose rope looks very red and the wrinkles are painful red and smell bad.
I'm not sure what is it? I read on the internet that when the wrinkles become black color and smelly it's called bulldog wrinkle yeast infection.
I don't know what to do, is there a bulldog wrinkle infection treatment or bulldog wrinkle medicine? Is there a way to prevent a nose ropes yeast infection? maybe a way you recommend cleaning bulldog wrinkles? I see that you have in your store something called "V4B bulldog antiseptic skin fold XL wipes" product, do you ship them to the middle east? Are bulldog antiseptic skinfold wipes also good for bulldog wrinkles and bulldog nose ropes or those are different?
Are there other wrinkles and bulldog yeast infections I should be worried about? I am desperate, how can i stop the infection from spreading? his nose ropes are now so painful red and itchy.
Thank you, Doctor
1 Answers
Bulldog Wrinkles Infection
The medical term for "infected bulldog wrinkles" and/or "bulldog infected nose ropes" is bulldog skinfold moist dermatitis. Bulldog puppies can develop Bulldog Wrinkles Infection in multiple sites not just the nose rope and facial folds.
Bulldog infected wrinkle is called "Bulldog Skinfold Moist Dermatitis"
COMMON SITES FOR BULLDOG INFECTED WRINKLES
 The most common ones are your bulldog:
Face (facial folds)
Nose ("nose rope")
Tail (tail pocket, tail corkscrew)
Toes & Interdigital
Female Vaginal Folds (vaginal folds and hooded vulva)
Bulldog Infected Nose Wrinkle CAUSE
Many bulldogs suffer from excessive wrinkles and nose ropes due to their idiosyncratic anatomy and unfortunate selective breeding. The moisture, humidity, and dampness collected in those wrinkles provide a breeding ground and an ultimate incubation site for bacteria and yeast organisms witch can cause infected wrinkles. A warm climate and high humidity are likely to exasperate your bulldog wrinkle infection. 
The infected bulldog wrinkle and nose rope leads to pain, itch, redness, discoloration, bad smell and pain
Bulldog Wrinkles Infection PREVENTIVE CARE & MAINTENANCE
The key for bulldog wrinkles preventive care is to minimize the folds of moisture and dampness.
Keeping your bulldog wrinkles dry will prevent infection and inflammation.
V
4

B BULLY ANTISEPTIC SKINFOLD WIPES PREVENTIVE CARE & MAINTENANCE

For most English bulldog puppies and French bulldog puppies wrinkles, daily cleaning with skinfold antiseptic wipes is sufficient as both preventive and long-term maintenance.
We offer a
V
4

B BULLY ANTISEPTIC SKINFOLD  TOPICAL PREVENTIVE CARE & MAINTENANCE

Other bulldog wrinkles nonprescription topical therapeutic prevention and treatment products we offer are: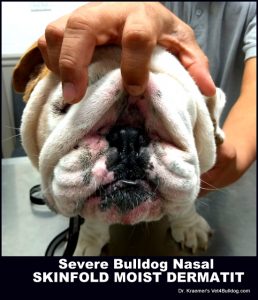 Bully Wrinkle Antiseptic Rinse
Bully Wrinkle Antiseptic Spray
Bully Wrinkle Antiseptic Lotion
V
4

B BULLY THERAPEUTIC SUPPLEMENT PREVENTIVE CARE & MAINTENANCE

To help control the wrinkles inflammation and itch, and to help repair the damaged skin barrier, the above-mentioned bully skinfold antiseptic topicals with our therapeutic supplements like Dr. Kraemer's V4B Bully Fish Oil EFA SKIN-IMMUNE-JOINT chew.
V
4

B BULLDOG WRINKLES RX

AVOID: Prescription RX is rarely needed.  The bulldog wrinkle and nose rope problems are not temporary problems but rather lifelong conditions that require lifelong management and care.

WARNING: Long use of prescription medications are likely to lead to adverse unwanted effects thus should be discharged and limited.
V
4

B BULLDOG WRINKLES SURGERY REPAIR

Severe tail pockets and vaginal wrinkles (folds and hood) often require surgical repair. The tail is removed, and the hooded vulva and folds are pulled and cosmetically "stretched" to help "air out" the area.
Answer for Bulldog Wrinkles Infection TIPS & WARNINGS
BULLDOG INFECTED WRINKLES and NOSE ROPE TIPS:
Bulldog wrinkle Tip #1 GO DEEP: Make sure to reach deep into the wrinkles, rope, crevices, and folds
Bulldog wrinkle Tip #2 BUSTER COLLAR: You might need to use a collar at times when your bulldog is very itchy and/or painful till the area heals to help avoid self-trauma.
Bulldog wrinkle Tip #3 FREQUENCY: mild bulldog wrinkles can be wiped weekly or biweekly, moderate daily, and severe bulldog skinfold dermatitis might require a proper wiping twice daily.
BULLDOG INFECTED WRINKLES and NOSE ROPE WARNINGS:
Bulldog wrinkle Warring #1 TRAMUA: negated wrinkles and nose rope can become painful and itchy leading to pawing and rubbing. This can go further irritation or serious injury to surrounding structures like the eyes.
Bulldog wrinkle Warring #2 UTI: Neglect vaginal wrinkles can lead to infected fold dermatitis that can ascend into the urinary tract and cause chronic cystitis and urinary tract infection.
"An Ounce Of PREVENTION Is Worth A Pound Of CURE"


*This guide was compiled courtesy of Dr. Kraemer, a "must-read" manual for any current or future bully owners
.