Pyoderma Skin Infection In Bulldogs And French Bulldogs
Pyoderma stands for purulent skin (pus) in the Latin language, due to bacterial infection.
The most recognized bacteria skin infection is  Staphylococcus pseudointermedius
The bacteria are part of "normal" skin microflora colonization but an overgrowth or injury to the skin can turn into an infection
Bulldog Bacteria Skin Infection (Pyoderma)  5 X MUST KNOW
There are three types, surface (mild/common), superficial (moderate/common), and deep (rare/severe).
Due to the overuse of antibiotics, we see a higher number of multidrug-resistant bacteria infections.
Antibiotics are not needed for surface pyoderma and often make the problem worse.
Bully therapeutics should be used for all skin infections, they are often superior to medication.
Prevention and care include Dr. Kraemer's

Bulldog Skin Infection

Bundles.
Members of this bulldog community prefer prevention over RX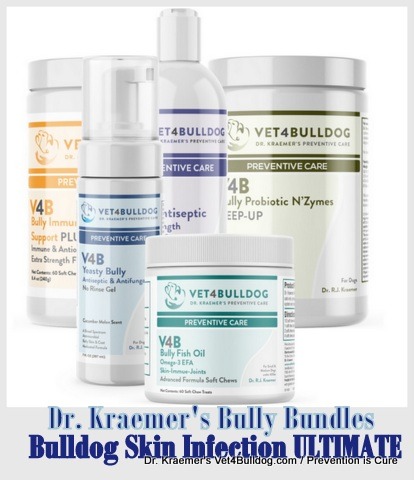 Skin Infections In Bulldogs PYODERMA TYPES:
There are three types of pyoderma, two are common and the third is rare.
BULLDOG SURFACE PYODERMA
Surface pyoderma bacterial infection of the skin surface is common and often described as a "hot spot".
The infection is usually mild and treated with nonprescription bully topical therapeutics.
Surface pyoderma's most recognized bacteria is Staphylococcus pseudointermedius.
BULLDOG SUPERFICIAL PYODERMA:
Is a common bacterial infection within the skin usually mild to moderate and might also require prescription medication based on cytology findings.
BULLDOG DEEP PYODERMA:
Deep pyoderma is a rare bacterial infection found under the skin,  it is usually a more severe and serious form of infection requiring systemic antibacterial treatment. Your pet can become ill and require immediate medical attention.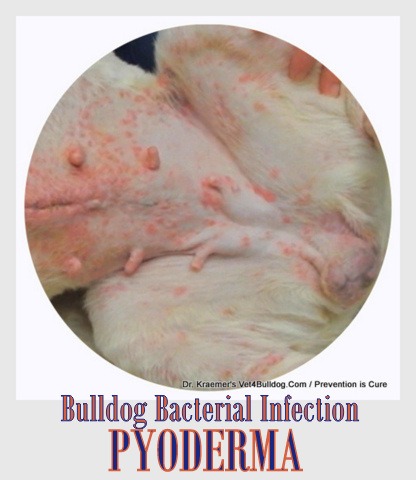 Skin Infections In Bulldogs And French Bulldogs CAUSE:
GENETIC
Bulldogs are prone to allergies and skin disease
ALLERGIES:
Food allergy
Atopic environmental allergy
Flea allergy
Contact allergy
Itching leads to skin injury, and damages the skin's defensive barrier allowing secondary bacterial infections.
IMMUNE SUPPRESSION:
RX:
Cortisone: Steroids are immune suppressants.
Chemotherapy: weaken the immune system and white blood cell count
Hormonal disease:
Cushing: abnormal high endogenous cortisones.
Hypothyroid: Low thyroid levels weaken the immune system
Diabetes
Chronic Disease & Stress
Parasitic infection: weakens the immune system
Stress will suppress the immune system
Poor nutrition
Other chronic illness
Some pyodermas are unique to bulldogs, the most common ones are:
SKINFOLD MOIST INFECTION DERMATITIS
Face, Nose, Tail, Vaginal, Paw
BULLDOG ACNE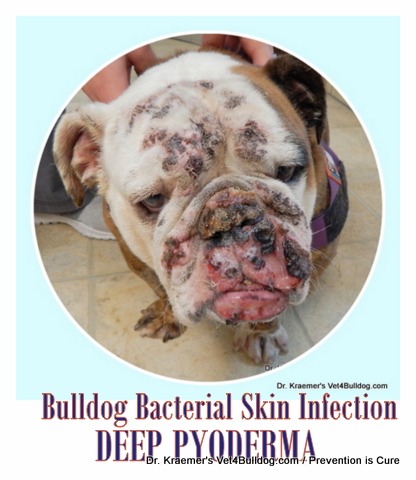 Skin Infections In Bulldog Pyoderma PRESENTATION
Itching & Scratching
Redness, Puffy inflamed Skin
Baldness, Alopecia, Hair Loss
Oozing draining tracks
Pus lesions (Pustules)
Pain
Bulldog Pyoderma Skin Infections DIAGNOSIS
Exam
Scrape: checking for mites
Cytology: checking for inflammatory cells, yeast, and bacteria
Allergy Testing: food trials and blood VARL test
Fungal Culture
Blood & Hormonal Test
Culture & Sensitivity:
Culture is only required for unresolved infections that do not respond to antibiotic treatment.
Examples are:
MRSP: the common staph bacteria that mutates and is no longer responsive to the common antibiotics.
Gram-negative bacteria and other less common skin pathogens.
Skin Infection Bulldog Pyoderma PREVENTIVE CARE
Identifying and managing the underlying immune suppressant disease
Avoiding immune suppressant drugs
Balanced quality diet
Stree-free loving environment
Nonprescription bully therapeutics.
Bulldog Skin Infection PYODERMA TREATMENT
Treatment depends on the severity and type of the pyoderma
Surface Skin Pyoderma Infection:
Bathing and bully therapeutics are usually all that is required.
BATHING: Bathing helps remove allergens and dead skin and is soothing
MEDICATED ANTISEPTIC SHAMPOO
V4B Yeasty Bully Antiseptic  Medicated Shampoo
ANTISEPTIC SPRAY AND GELS
Yeasty Bully Antiseptic No-Rinse Gel
Hot Spot Bully Antiseptic Spray
IMMUNE & INFLAMMATION
Bully Fish Oil
Bully Immune Support
GUT MICROBIOME
Bully Pre/Probiotics LOAD UP
Bully Digestive Enzymes Probiotic KEEP UP
CALM & RELAX
WARNING: Antibiotics are not recommended for surface skin infection; they are mostly ineffective and can compound the problem by selecting a resistant bacteria and by its negative effect on the gut microbiome (good gut bacteria)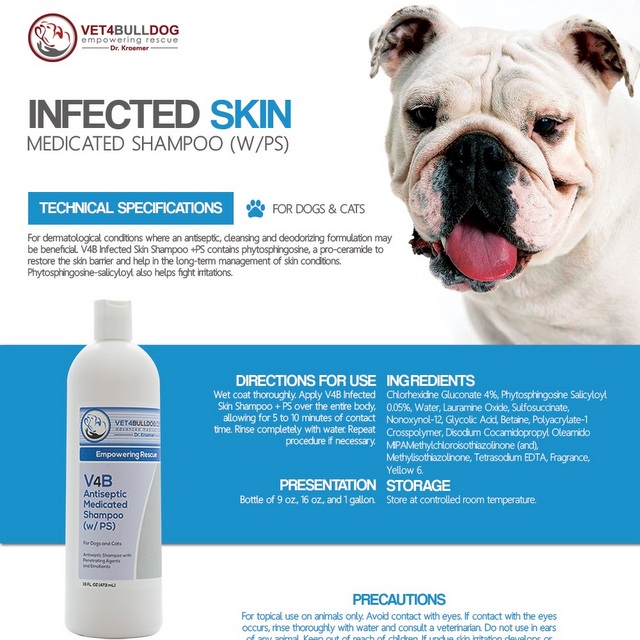 Superficial Pyoderma Skin Infection
Bully therapeutic topical and supplements are usully combined with antibiotics 
BATHING
Bully Therapeutics: same as a surface skin infection
Antibiotics: based on cytology (cocci). Usually for 3-4 weeks
Itch control RX
Deep Pyoderma Skin Infection
Requires antibiotics often for multipule pathogens. 
BATHING
Bully Therapeutics: same as a surface skin infection
Antibiotics: based on culture and sensitivity. Usually for 6-8 weeks
Itch control RX
Laser Therapy
Stem Cell Therapy
WARNING: The underlying condition must be treated for the treatment to be effective in the long term such as an underlying immune suppression disease
Thyroid: Thyroid tablets
Cushing's: Trilostane
Parasites: Dewormings and Topical preventives
WARNING: Immune support cause is not always a disease. Often it's due to overzealous use of cortisone such as for itch control
Bulldog Skin Infection /BENEFIT OF BULLY THERAPEUTIC
There are major advantages to the early and frequent use of bully therapeutic.
These advantages include:
Speeding the resolution of the skin infection
Limits multidrug resistance bacteria
Washing bacteria and allergens off the skin
Highly effective for superficial and surface pyoderma
Reduces the duration of antibiotic treatment
Effective against multidrug-resistant bacteria like MRSP
Removes dander, scale, and flakes
Soothing and itch relief
Hydrating the skin
LOW COST
NON-RX (no prescription is required)
@ HOME
EASY TO IMPLEMENT
VERY SAFE
NO SIDE EFFECTS
 WATERLESS ANTISEPTIC GELS
Dr. Kraemer's provides a medicated no-rise antiseptic gel for those pets who are difficult to bath or for those owners with limited time or who do not own a bathtub
Compliance is critical
Dr. Kraemer's Skin Infection TIPS & WARNINGS
Skin Infection BULLY THERAPEUTICS TIP:
Prevention and management of any skin infection should always include topical therapeutics.
Most medicated shampoos must remain on the skin for at least 10 minutes before rinse.
Bulldog Skin Infection WATERLESS ANTISEPTIC GEL TIP:
Dr. Kreaemer's bully waterless no-rinse antiseptic gel can be used in between shampoo bathing days.
Skin infection STRESS & ANXITY TIP:
Chronic stress and poor nutrition can suppress the immune system thus increasing the odds of pyoderma.
DR. KRAEMER'S SKIN INFECTION WARNINGS:
Skin Infection ANTIBIOTIC WARNING: It is a widespread practice among veterinarians to prescribe empirical systemic antibiotics as the "go-to" treatment, it is often not required and at times harmful. Remember our "Do No Harm" cardinal rule.
Topical nonprescription medicated therapy and baths should always be the default "go-to" treatment in surface and superficial pyoderma.
Skin Infection UNDERLINING CAUSE WARNING:
The underlying cause must be addressed. If it is allergies, the itch must be controlled. If the immune system is compromised the underlying cause should be addressed and the immune system boosted with stress reduction, a balanced diet, and bully therapeutic supplements
Bulldog Skin Infection TREATMENT DURATION WARNING:
Antibiotic treatment usually requires a few weeks of treatment. If you stop the treatment too soon the infection can reoccur or become more resistant to the common drugs.
Bulldog and French Bulldog CORTISONE WARNING:
Remember many of the itch control medications contain cortisone which can make the infection worse
Bulldog Skin Infectoun MULTIDRUG RESISTANCE WARNING:
Over the last decade, we have seen a steep rise in multidrug-resistant bacteria mostly due to overuse or inappropriate use of antibiotics.
MRSP is the common staph that becomes resistant to the commonly prescribed antibiotics.
Skin Infection Pyoderma in Bulldogs and French Bulldogs SUMMARY:
All skin infections and pyodermas should include nonprescription bully therapeutics
Re-checks and follow-ups are critical, especially for deep pyoderma cases
"An Ounce Of PREVENTION Is Worth A Pound Of CURE"

*This guide was compiled courtesy of Dr. Kraemer, a "must-read" manual for any current or future bully owner